UC Riverside's new Rooms for Increasing Student Engagement, or RISE, classrooms are expected to open up new possibilities in teaching as faculty members begin using the state-of-the-art audio and video technology.
Information Technology Solutions, or ITS, upgraded 110 classrooms over the summer to allow for both in-person and remote options that are aimed at increasing student engagement and enhancing learning as the campus returned to mostly in-person instruction this fall.
ITS and UCR's Exploration Center for Innovative Teaching and Engagement, or XCITE, collaborated on the RISE initiative and will be providing support to faculty members.
Each room is equipped with high-resolution pan, tilt, and zoom cameras that provide multiple views of the classroom. An array of microphones installed in the ceilings provide clear two-way sound. In larger rooms, instructors use lapel microphones and a Catchbox, a throwable Nerf-like cube with an enclosed microphone.
The system is controlled via a small touch-screen panel that includes four preset camera positions from which instructors can select. Lectures can be recorded with a touch of a button with features such as closed captioning.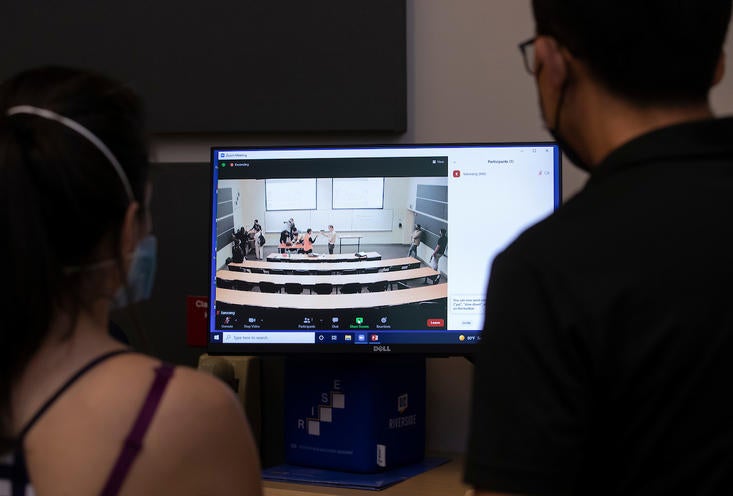 The control panel is part of the same console in classrooms that instructors are already familiar with but now come with a wider array of technology options, said Alexandra Chrystal, manager of communications and training for ITS.
The ITS Multimedia and Classroom Technologies team talked to faculty members about their needs in designing the classrooms for ease of use, she said.
"They took into consideration the faculty experience when using this technology to make it completely user-friendly and intuitive," Chrystal said.
ITS has added RISE training to its regular orientation training at the start of each quarter and has created a set of how-to videos. In tandem, XCITE has created videos that provide suggestions for different ways instructors can use the technology.
Richard Edwards, director of XCITE, said the rooms can be tailored by faculty members to meet their own teaching styles.
"If you want to do more of a seminar teaching style, these rooms support that," he said. "If you're more of lecturer, the rooms support this. If you're more of a Socratic instructor that is based on question and answer, because of the way the microphone technology is seamlessly integrated, you can have a back-and-forth with students."
Using a close-up document camera, for instance, faculty members can switch from a prepared Power Point to a live demonstration to a notepad where the instructor is writing, creating the effect of a virtual whiteboard, Edwards said.
The RISE team previewed the classrooms in open houses last month where faculty members had an opportunity to ask questions, break into smaller discussion groups, and test the technology for themselves.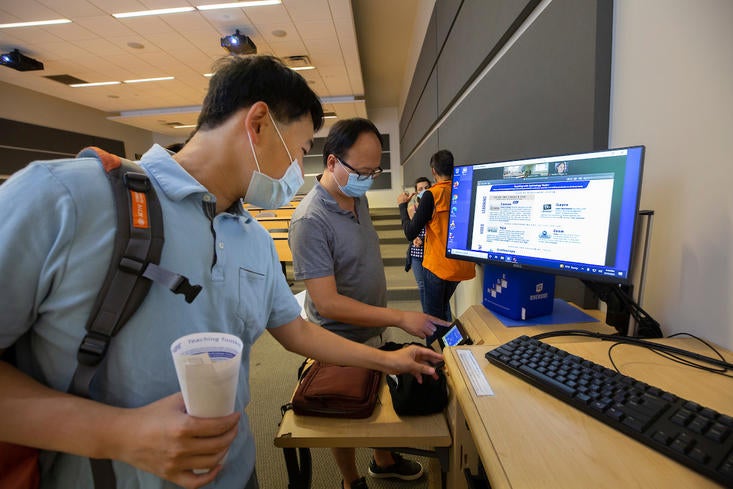 At one of the open houses, Fuson Wang, an assistant professor of English, said he's looking forward to trying out the technology in his classroom. He said he liked the different camera angle options and called it an improvement over the single Zoom view he's had to use for the past year and a half.
"This will be a little livelier," Wang said.
Amos Lee, an assistant professor of teaching in the School of Education, said he liked features such as the ability for instructors to record their lectures and the Catchbox microphone. He expected the latter to allow for better dialogue in large settings.
"I appreciate the multiple ways of being able to engage students that goes beyond the one-to-one while everybody watches," he said.
XCITE has hired and trained 48 graduate student assistants, known as instructional continuity consultants, or ICCs, who will work directly with department chairs and faculty to provide support in using the RISE classrooms.
ITS has 49 student workers and 11 professional IT staff ready to support faculty with classroom technology needs, such as broken or unresponsive equipment or requests for additional equipment.
Every classroom is equipped with a "help" button and telephone, either of which faculty can use to request immediate assistance from Multimedia staff, who should arrive within 5 minutes. 
If the instructor is looking for guidance or help incorporating the new technology into their pedagogy, the request will be routed to the ICC team. Faculty can also request an ICC by emailing icc@ucr.edu or scanning the XCITE QR code located in each RISE classroom. 
That collaborative approach allows them to "deploy the right resources to faculty in real time," Chrystal said.
Edwards described the RISE rooms as a preview of future classroom innovation but said it will ultimately be faculty members who determine where they can take the technology.
"We really built this for faculty members to explore what they want to do with this technology," he said. "We think there all sort of uses we haven't even thought of yet. We just wanted to put the right tools in front of our talented faculty. We're going to learn a lot from this next year."
More information on the resources available to faculty is available at https://ontherise.ucr.edu/ and https://teaching.ucr.edu/