UC Riverside has more than doubled the number of electrical vehicle charging spaces on campus with the recently opened Big Springs Parking Structure 2.
The new structure has a total of 93 level 1 chargers available to faculty, staff, and graduate students. In addition, the campus has had 64 level 2 chargers at various lots available to all students, faculty, staff, and visitors.
More new charging spaces are expected due to the lower installation costs and user fees for the level 1 chargers, according to Transportation and Parking Services.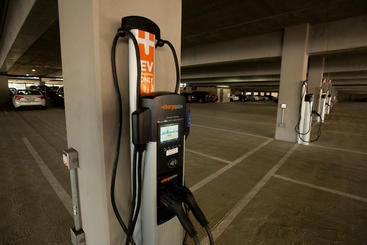 The department is encouraging electrical vehicle use as a cleaner commuting option and as a way for UCR to reduce its carbon emissions.
"To make electric vehicles viable, it's key for drivers to know they'll be able to charge their ride and have a place to park for the duration of their time on campus," said Irma Henderson, director of Transportation and Parking Services.
The level 1 chargers can be plugged into a standard 120-volt, 20-amp circuit wall outlet and average 4 miles of driving range per hour of charge.
Electrical vehicle owners who wish to use the spaces must purchase a blue lot/electric vehicle Level 1 charging permit, which costs $45 per quarter in addition to the $207 per quarter or $69 per month for a blue permit.
Unlike the level 2 chargers already on campus, the level 1 chargers do not require access cards, phone apps, or special processes. Users supply their own charging cord and simply plug in. Cords need a standard residential 20-amp wall plug.  
The charging spaces are available on a first-come, first-served basis. Users can park in the spaces if they are actively charging.
The level 2 chargers deliver current from a hardwired unit via a connector and average 25 miles of driving range per hour of charge. Users must have a valid UCR parking permit and initiate a charging session through a ChargePoint account
Level 2 rates are 75 cents an hour for the first two hours and $3.50 an hour thereafter for students, staff, and faculty. 
Further information can be found online at https://transportation.ucr.edu/electric-vehicle-charging