UC Riverside is working on plans to create a learning and living garden in the center of campus honoring the area's Indigenous tribes.
The Native American Garden is planned for a 20,000 square-foot area in the upper mall outside the Highland Union Building, or HUB. The mall is near Pierce Hall, which was recently renovated.
"It's in the campus core within sight of the Bell Tower, a very prominent public space that everybody walks through," said campus architect Jacqueline Norman. "It will be an important part of the campus landscape."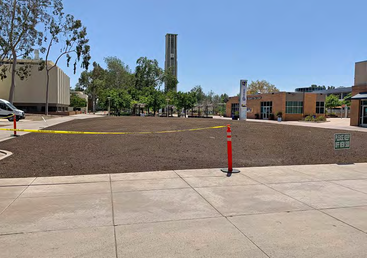 The campus has sought to pay respect to the Native American tribes that were the area's original inhabitants by encouraging mindfulness of the historic injustice done to them and showing appreciation for their continuing contributions, said Uma Ramasubramian, UCR principal physical planner.
"The Native American garden is all about telling the story of these people who were originally in this place, what they valued, what's representative of this culture," he said.
The garden will feature plants, materials, and other elements that reflect the culture and heritage of the Cahuilla, Tongva, Luiseño, and Serrano peoples.
An ad hoc committee that includes campus leadership, staff, faculty, a student, representatives from the Native American Student Programs, and director of the Sherman Indian Museum has been meeting over the last year to discuss the concepts and design of the project.
Clifford Trafzer, a distinguished professor in UCR's history department and the Rupert Costo Chair in American Indian Affairs, is one of the committee members.
"I greatly appreciate the fact that the entire project is driven by a desire to honor the regional tribes and their lands, plants, and places," Trafzer said.
"My deepest hope is to listen to Cahuilla, Tongva, Serrano, Cupeño, and Luiseño people about the plants that best represent them and their cultures," he said. "It is important that our interpretation of plants, such as white sage, mesquite, live oak, black oak, chia, various cacti, and others, come from the communities. The plants were gifts of their creations, and the people revere them deeply, asking permission to gather and giving thanks for their many uses."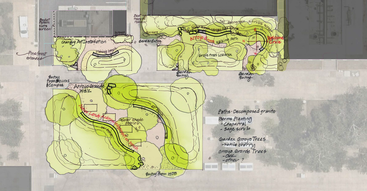 The committee has been working on designs with the Seattle architecture and landscape firm of Jones & Jones, which designed the National Museum of the American Indian in Washington, DC.
The concepts utilize a variety of plants and vegetation native to the different tribes and the region such as chapparal, oak, sage scrub, and desert vegetation. 
The garden will include a circular gathering area that can be used for performance, distinctive planting areas, a shade structure, benches, and Indigenous art such as murals or a sculpture.
"It will be something that will really activate that mall in a beautiful and meaningful way and bring faculty and students into that space," Norman said.
The committee hopes to start planting in spring, weather permitting, and have the garden completed during the summer.