It was a rare occasion for members of the UC Riverside vanpool group from Palm Springs. For the first time since the pandemic began, all five were together on a recent day in November for their daily commute.
"It was fun," said Dawn Loyola, a student services supervisor and member of the vanpool group. "I feel like I have a good group of friends."
For much of their time on campus, she and her fellow vanpool members counted on the conversation and comradery to get them through the hour-long drive to and from Palm Springs, where three of the members live. The other two reside in nearby Desert Hot Springs and Coachella. 
But like most everything else, that routine came to a halt in March 2020. But even as the campus switched to mostly remote work and instruction, the vanpool group continued to stay in touch for regular Zoom get-togethers.
The group began commuting together again with the start of the fall quarter and return to mostly in-person work and study. 
But there have been some changes due to COVID-19 safety protocols. They wear face coverings in the vehicle. And with hybrid work arrangements, they have different schedules, so not everyone is commuting every day.
"Overall, it's just been a good steady slow ramp-up to being on campus," said Alton Carswell, a case manager with Student Affairs and one of the members of the Palm Springs vanpool. "I think it's been very beneficial to getting us acclimated to being on campus."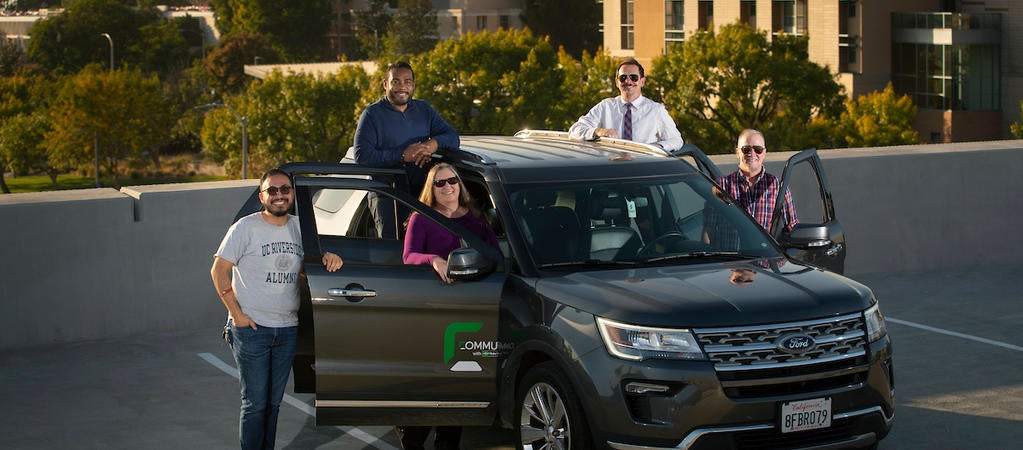 The group is one of the three running vanpools since fall, along with vanpools from San Dimas and Yorba Linda.
Prior to the pandemic, Transportation Services had 26 vanpools from areas including Los Angeles and Orange counties. The department is targeting its marketing to areas where the campus has many commuters and scheduling "Commuter Connection" meetings to provide more information about vanpooling, said Tara Pueschel, a transportation demand management specialist with Transportation Services.
The department has encouraged carpooling as a transportation alternative that reduces traffic and parking congestion while benefiting the environment. Vanpools are not required to purchase a parking permit and are allowed the flexibility to park in any lot on campus.
Employees enrolled in the program receive subsidies from UCR to cover the cost of the vehicles leased through Commute with Enterprise. Commuters may also qualify for subsidies from the Riverside County Transportation Commission.
Vanpoolers receive a free 10-pack of parking permits per quarter for days they need to drive their own vehicle to campus. They also qualify for a county program that reimburses for a taxi or ride-share drive home in the case of an emergency.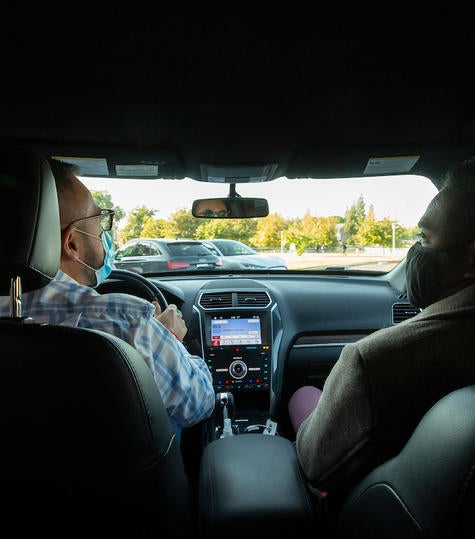 The Palm Springs group members say they joined for similar reasons: to ease the commute, share the driving load, and reduce stress.
Loyola, who's been with the group the longest at 14 years, joined when she was pregnant and found the prospect of driving by herself intimidating. 
They found themselves bonding as a group, noting how the vanpool program helped them meet employees from other departments or units on campus with whom they wouldn't ordinarily interact. They found common interests, often talking about places to visit and things to do in Palm Springs.
"We all chat," said Charlie Scruggs, director of the Health Professions Advising Center with Undergraduate Education. "We're pretty conversational. It makes the hours go by pretty seamlessly."
Frank Figueroa, program manager for the Latino and Latin American Studies Research Center, joked: "We like to say we solve the university's problems in the van."
At one point, Loyola, Carswell, and Figueroa were working on doctoral dissertations at the same time and found themselves relying on each other for ideas and emotional support.
Scruggs previously lived in Riverside, but when he was considering moving to Palm Springs in 2018, he met with Figueroa to find out about the vanpool group.
"I really wanted to be in the desert," he said. "They kind of sold me on it."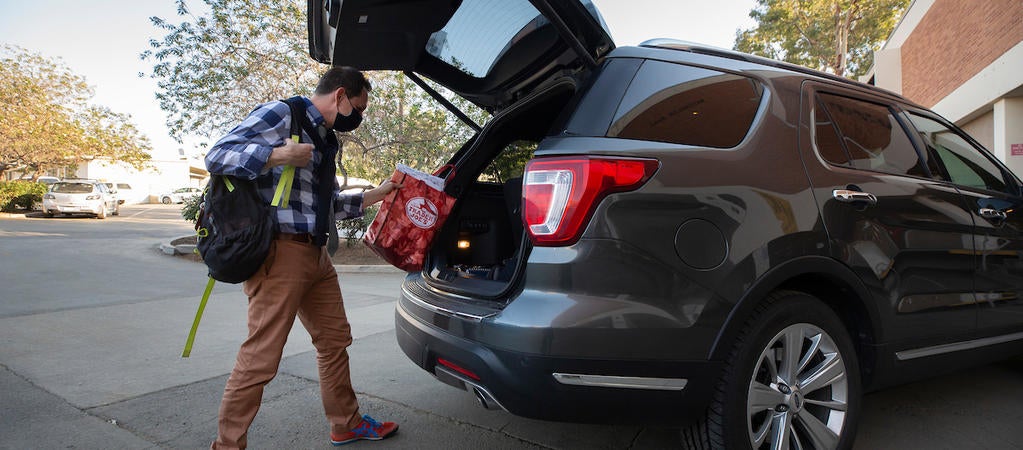 The vanpool members even find common ground on music, swapping out their phones to choose the ride's playlist.
"I'll play stuff that connects with everybody," Carswell said, describing '80s music as a favorite for all five members.
The group meets around 6 a.m. each morning at a Denny's at Palm Springs. They take turns driving a Ford Explorer and maintain a group text to coordinate schedules. With the use of the carpool lane, the drive is usually pretty smooth, except for the Interstate 215/Highway 60 intersection in Moreno Valley.
Even as the vanpool members have changed over the years as people have come and gone, they say they've remained a close group. So, when the group stopped commuting together at the start of the pandemic they naturally stayed in touch with regular Zoom chats, Carswell said.
In June, after the members were vaccinated, they met in-person for dinner, the first of two get-togethers before the resumption of the vanpool in late September.
"I would say this group, for myself, has been very crucial in staying abreast (of what's going on) and maintaining our support structures and connections," Carswell said.
Paul Murie, an adjudication manager with Transportation and Parking Services, is the newest member of the group, having moved to Palm Springs last year. He began riding with the group this fall.
"It's been great," he said. "The people that I ride with are wonderful people."