Riverside Transit Agency has installed new bus shelters and bays near UC Riverside that will ease travel for campus commuters.
Six new bus bays and shelters were constructed on Canyon Crest Drive near Bannockburn Village, giving riders more space to board four bus routes. The stops had benches before but no bays or shelters prior to the project, RTA spokesman Brad Weaver said.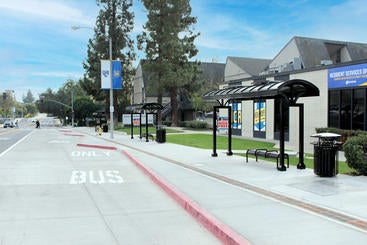 Buses began stopping at the new shelters on Dec. 5.
"The project wrapped up at a perfect time as more and more students and staff are back to riding the bus again," said Tara Pueschel, transportation demand specialist with UCR Transportation Services. "We're sure our community will appreciate the upgraded shelters as they will provide protection from the sun, bench seating, and trash receptacles."
The routes are used by a significant population of students, staff, and faculty members with nearly 20,000 Highlanders boarding RTA buses last month, according to the agency.
The project also includes a modernized two-way bicycle lane across the street for riders who combine bike and bus trips.
Students and employees can register for a free RTA pass through UCR Transportation Services and ride at no cost any day of the week on any RTA fixed route bus.