In 2020, Bianka Aceves Martin, a third-year student in the UCR School of Medicine served as an intern in the Beyond Flexner Alliance, a "national movement focused on health equity," and got to spend much time discussing diversity in the medical education field. 
"As medical students, we had a unique perspective on this issue," she said. "I worked with four other interns to look at how diverse medical school deanships are in allopathic medical schools. Information regarding the medical school deans is made publicly available online by the Association of American Medical Colleges."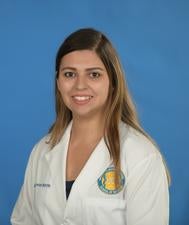 To shed light on issues of diversity and representation, Aceves Martin and her fellow interns examined the specialty, gender, and race/ethnicity of 153 allopathic medical school deans. Their findings are now published in the January/February 2022 issue of the Journal of the American Board of Family Medicine, the official peer-reviewed journal of the American Board of Family Medicine.
"We all took part in the planning, research, writing of the paper," Aceves Martin said.
Aceves Martin and the other coauthors obtained data on the race/ethnicity of deans from the Association of American Medical Colleges, or AAMC. The data excluded osteopathic deans.  They found that in 2019 only 11% of deans were under-represented minorities, 16% of deans were primary care physicians, and 18% of deans were women. 
"When compared with physicians in the United States and the population as a whole, these numbers are not representative of national demographics," Aceves Martin said. "Based on our findings around the lack of representation of women, underrepresented groups, and primary care physicians as deans, medical schools should increase efforts to develop faculty that identify with these groups." 
According to the authors, the changes they recommend could be achieved through pipeline programs that aim to increase the mentoring and career development of underrepresented groups in medicine and women, as well as continue mentorship for those interested in primary care. 
"These adjustments would help make medicine more inclusive and representative, not only for the next generation of physicians but also for the populations we serve," Aceves Martin said. "The diversity of senior leadership matters to students. Medical schools should hire deans and senior leadership that represent a diversity of specialties, genders, races, and ethnicities."
Aceves Martin, who in interested in a family medicine residency after she graduates with an M.D., was joined in the research by Autumn Nobles at the Yale School of Medicine, New Haven Conn.; Jaileessa Casimir at the City University of New York School of Medicine; and Sarah Schmitt, and Geoffrey Broadbent at the George Washington University School of Medicine and Health Sciences, Washington, D.C.
The research paper is titled "Stalled Progress: Medical School Dean Demographics."