UC Riverside has joined two national research consortiums that bring together leading institutions of higher education, scholarly professional associations, and learned societies in the areas of humanities and social sciences.
The campus became a member of the Social Science Research Council's College and University Fund for the Social Sciences in late January. In early February, UCR joined the American Council of Learned Societies Research Consortium, or ACLS.
As a result, UCR is now among the top movers and shakers in humanities and social sciences and will have access to increased opportunities for Highlander researchers and students, said Daryle Williams, dean of the College of Humanities, Arts, and Social Sciences.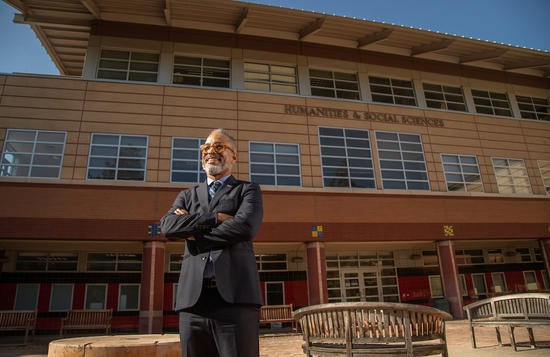 "It's been my goal to bring CHASS into the room where it happens, into the places where the major players in humanities and social sciences meet, where they discuss what research looks like and the importance of our scholarship," he said.
"This is where the action takes place and we've earned our place at the table," Williams added.
Both groups welcomed UCR. Anna Harvey, Social Science Research Council president, said the College and University Fund, or CUF, works to bring together researchers and research funders to set a broad research agenda and find solutions to global challenges.
"The problems we face today exist at scale, and they demand a research response that is likewise at scale," she said. "By bringing as many academic leaders to the table as possible, we believe this group can help to leverage the kind of funding that will be required to solve these massive challenges, including climate change, vaccine skepticism, and preparation for the next pandemic."
ACLS President Joy Connolly welcomed UCR to the consortium, saying the group looks forward to working with Williams and his colleagues.
"The College of Humanities, Arts, and Social Sciences hosts an exciting community of outstanding scholars, and through its programming and curricula, it serves as a beacon for all, including first-generation college students," she said. "We applaud its status as the UC system's first campus to earn the formal designation as a Hispanic-Serving Institution."
UCR is now among seven UC campuses that are members of CUF and ACLS.
As members, faculty members and students will have access to training workshops, fellowships, and networking opportunities, said Kiril Tomoff, CHASS associate dean of arts and humanities.
The groups play an important role in promoting humanities and social science research and shaping conversations on issues such as social and racial justice. As one of the most diverse universities in the consortiums, UCR can offer a special perspective on such issues, Tomoff said.
"To have the UCR voice won't just be good for us, it will also be good for them," he said.
Gloria González-Rivera, CHASS associate dean of social sciences, said UCR can also be a model among peers in the SSRC and ACLS consortia for our success in social mobility and training students from different income levels for well-paying, fulfilling employment
"We want to be the main actor in promoting this idea," she said.
Joining national groups such as these has been one of Williams' priorities since he joined UCR as dean. It's a step that he hopes will also lay the foundation for UCR being invited to join the Association of American Universities, which shares some of the same membership of the two groups.
Williams said it's important that UCR not be overlooked or underestimated, likening it to an investment in its future.
"This is a long-term objective and a long-term benefit," he said. "It's taken us a long time to get where we are today. These are infrastructure improvements that hopefully build a stronger edifice."