When he went into law enforcement, UC Riverside interim Police Chief Anthony Frisbee expected to spend his career working at a city police agency. That changed when he joined the UC Irvine police department 17 years ago.
"I fell in love with campus policing," he said.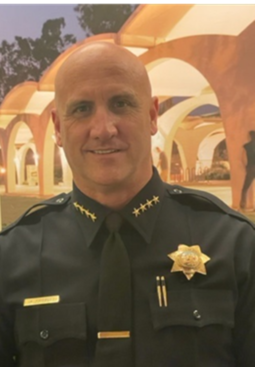 Frisbee, who was sworn in as UCR's interim chief on Feb. 10, said working in a university setting is different from other types of policing. He described the approach as serving as "guardians, not enforcers," and working collaboratively to provide resources to the campus community.
Frisbee most recently served as a lieutenant managing UC Irvine's medical campus in the city of Orange. At UCR, he replaces interim Chief John Freese, who retired after 27 years with the department, and worked with him for a week to smooth the transition.
UCR is conducting a national search for the position and expects to have someone in place by fall.
Frisbee said he reached out to Freese when UCR put out the call for an interim chief to see if he would be a good fit. He was intrigued by the decision last year to reorganize the police department into a holistic Health, Safety, and Wellbeing Division. The new division also includes Campus Advocacy, Resources & Education, or CARE, Basic Needs, Student Health Services, Counseling and Psychological Services, The Well, Student Affairs Case Management, and the Student Disability Resource Center.
"I'd like to help work with our community and show how we can help lead the way for other universities and other city departments to best practices to serving the public effectively and inclusively and really evolve," he said.
He listed building relationships with other campus partners, working collaboratively with other resource providers, and promoting transparency as his top short-term goals during his stint. For instance, Frisbee is planning to upgrade the police department website to share more public safety data with the campus.
He praised the department as an "extremely talented and dedicated team," from the professional staff to the dispatchers to the police officers.
"Each campus has a unique culture and environment and I love UCR's," he said. "Just in the first two weeks, the feeling I get is we're a family and it's really a tight connected family of staff and faculty serving our students."