UC President Michael V. Drake, M.D., has accepted a faculty appointment at the University of California, Riverside. Dr. Drake will serve as distinguished professor in the Department of Internal Medicine within the Division of Clinical Sciences in the School of Medicine. 
Under the terms of his appointment, Dr. Drake will provide an annual seminar and consult with UCR leadership, faculty, students, and staff on the vision and strategic plan for the School of Medicine.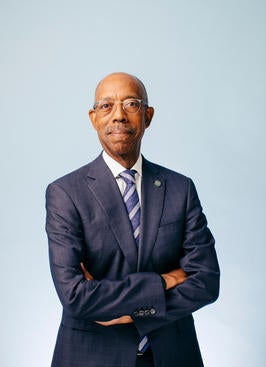 "We are extremely honored to have Dr. Drake join our faculty and contribute to our school's strategic mission and vision," said Dr. Deborah Deas, vice chancellor for health sciences and Mark and Pam Rubin Dean for the School of Medicine. "With his extensive leadership experience and public service in higher education, academic medicine, and scholarly research, I know that his presence will greatly benefit our students, faculty, and staff." 
Dr. Drake became the 21st President of the UC system in August 2020. He received his bachelor's degree from Stanford University and his residency, M.D., and fellowship in ophthalmology from UC San Francisco. Dr. Drake boasts an extensive public service record in academic medicine that includes a variety of roles with the American Medical Association, the National Eye Institute, the Association of American Medical Colleges, and the National Academy of Medicine. Dr. Drake will continue to hold a joint appointment as distinguished professor in the School of Medicine at UC San Francisco, where he has spent more than two decades as a faculty member.
"UC Riverside and our School of Medicine are committed to educational access, medical access, and research excellence," Chancellor Kim A. Wilcox said. "We are grateful that President Drake will be a part of helping us transform lives of students and our surrounding community."
Elizabeth Watkins, provost and executive vice chancellor, said she is "delighted that we can now count President Drake among our esteemed faculty here at UCR." 
"President Drake's contributions to medicine and university leadership are legion, and I welcome his experience and expertise as we continue to grow our School of Medicine," she said.
Along with his faculty appointment within the UCR School of Medicine, Dr. Drake will serve as the keynote speaker for the school's 6th Commencement and Hippocratic Oath Ceremony, scheduled for Friday, June 3, 2022.