UC Riverside will be showcased in an upcoming episode of "The College Tour," a television series that profiles campuses through student stories and is available on Amazon Prime and many other streaming platforms.
A television crew completed a week of filming across multiple campus locations that included interviews with 10 students in late July. 
Alex Boylan, executive producer and host of the program, said the Los Angeles-based production team has long had UCR on its radar as one of the campuses they wanted to spotlight.
"We knew we wanted to tell the story from the beginning," he said. "This is our backyard and we're very passionate about the UC system."
Boylan cited location, affordability, education quality, diversity, and inclusiveness as among the features that make UCR attractive. The students appearing in the show come from different backgrounds and have different educational interests yet tell a common story about how UCR has helped them pursue their dreams, he said.
"You're going to get what UC Riverside looks like, which is a very diversified and inclusive community across the board," he said. "There are some great stories there."
The show began pre-production and casting two months before filming, soliciting video applications from students interested in appearing on the show.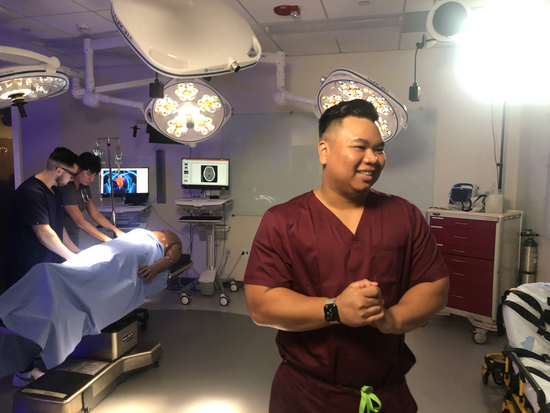 Patrick Samones, a School of Medicine student who received his bachelor's degree in biology at UCR, is among the students being profiled. A Moreno Valley resident who is a first-generation student from an immigrant family, Samones said he hopes his story resonates with others.
"I'm just hoping more people learn about the mission of the school and how important it is for underserved communities like our own," he said.
Samones  was filmed in segments at the School of Medicine's Center for Simulated Patient Care and the Health Professions Advising Center, where he was a mentor as an undergraduate.
Others profiled include international students, a student who was in the foster youth system, a transfer student, and one involved in student government. Each segment was filmed at a different location including Tomás Rivera Library, the HUB, the Student Recreation Center, and various outdoor areas around campus.
Boylan also interviewed Chancellor Kim A. Wilcox at the Student Success Center for a digital extra called "Coffee with the President" featuring the head of each institution that accompanies each episode.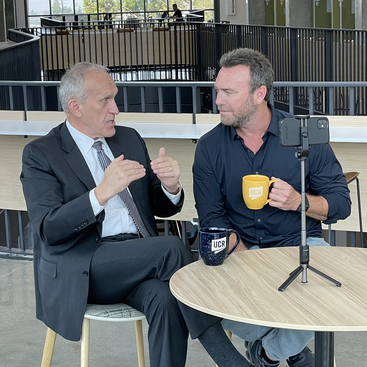 The program will begin rolling out individual segments on its website in late September while the full episode will be released on Amazon Prime early next year as part of the seventh season.
The goal is to get a well-rounded perspective that provides prospective students with a feel for the culture and vibe of a campus that they can't get just reading about it online, Boylan said.
"We're getting college students to talk to high school students and share their authentic stories so they can learn about the possibilities at that institution," he said.
The idea for the show began from a conversation with his niece a few years ago when she was navigating the difficult process of choosing between colleges. 
Boylan and his production team, whose credits include "Survivor," "The Amazing Race," and "The World's Toughest Race" thought the idea of taking a travelogue approach to campus visits could have potential.
Since it began airing, Boylan said he's heard from many students and parents how the program helped them choose a college. He's also found it inspiring talking to around 1,000 students at 70 colleges and universities so far.
"The future of not only this country, but this world, is in amazing hands," Boylan said. "The next generation that is in college right now are more mature, thoughtful and inclusive and want to marry their passion and purpose to making the planet a better place."