When NASA launches the Artemis I rocket on Monday, Aug. 29, UC Riverside employee Jessica Estrada will have a rare close-up vantage point — one she will be sharing with the world through social media.
Estrada, a program coordinator with the University Eastside Community Collaborative, an AmeriCorps program in the Center for Educational and Community Outreach Programs, will be at Kennedy Space Center in Florida as part of the NASA Social program.
She is one of 100 digital creators selected to have front line access to the launch. Provided the same access as news media, the group will tour the NASA facilities, meet with space experts, and be there for the launch of the Artemis I, an uncrewed flight test carrying the Orion capsule. 
Orion will circle around the moon for a six-week mission that will pave the way for future Artemis missions, including the first woman and person of color to land on the moon.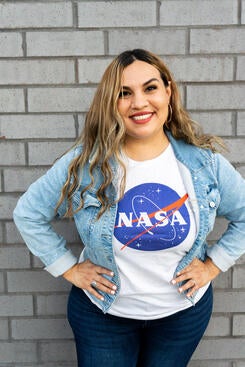 As a Latina and advocate for diversity and inclusion, Estrada said it meant a lot to her that the Artemis program will feature these firsts. 
"I wanted to be part of this moment," she said.
Estrada will post updates on her three-day visit through her personal social media accounts and plans to share live video of the launch on her Instagram page Monday at 8:33 a.m. Eastern Standard Time.
"I don't really know a lot of people who have gone to the NASA Kennedy Space Center so I want to share it with everybody," said Estrada, who has been fascinated with space since she was a child and dreamt of becoming an astronaut
She only became aware of and applied to NASA Social in July. The program seeks digital content creators active on multiple platforms who reach unique audiences distinct from traditional news media and NASA's own channels.
Estrada is active on Twitter, Instagram, LinkedIn, Facebook, and YouTube and also has a personal website where she shares her love of art, nature, music, photography, and more. She often uses space in her poetry to express her thoughts and feelings. She submitted links to those pages as part of her application and was thrilled to be selected.
Estrada noted that she's not a space expert and will offer a different perspective from others selected, who include astronauts-in-training, authors, television producers, and aerospace engineers.
"I want people to get excited for it," she said. "Whatever I learn, I want people to be part of the ride in an understandable and fun way."
Anyone interested can follow Estrada on Twitter, Instagram, Facebook, LinkedIn, and her blog.