When Belen Cardenas, 20, a third-year English major, visited the UC Riverside Library Special Collections and University Archives to research Chicano history she had no idea how personal it would become.
She and her classmates visited the Tomás Rivera Library as part of a summer class researching Chicano history. She ended up finding a personal connection to her grandfather's activism in the late 1960s with the United Farmworkers in the Coachella Valley, which included students from UCR.
"Seeing and being able to interact with the history he lived through made me feel connected to him," said Cardenas, whose grandfather, Manuel Rodriguez Olmeda, died 10 days before she was born. "It also opened up a conversation with my mother to inform me about her experience as a young Chicana during those protests."
To her surprise, Cardenas got to hold in her hands fliers from the era and read meeting summaries from protests that Olmeda had been a part of.
The documents within Special Collections and University Archives were pulled especially for the Introduction to Chicano Studies in Comparative Literature Class by a librarian working with the class. They're an example of the many library resources available to researchers and students, including the campus' history, said Daisy Herrera, a teaching assistant for the course and a doctoral student in history.
Herrera, who had brought another class to the library previously, said it was important for her that students be able to directly connect with the archives and link the material to their classroom lectures about student activism that took place at and near UCR.
"As a historian, I think it's really important for students to physically touch a piece of history directly connected to their campus," Herrera said.
For many of the students, it was their first time visiting the archives and may be their only opportunity, she said.
Herrera said the group trip was rewarding for the students who paired up as they made their way through the archival folders. Students mentioned how seeing spray-painted and hand-written posters made the history come alive, she said. Some took photos and utilized the materials for a midterm exam question on Chicano history.
Sandy Enriquez, a Special Collections public services, outreach and community engagement librarian, pulled out boxes of materials from multiple collections, including ones on race, ethnicity, and activism and the Robert J. Chandler collection, created by a graduate student at the time who documented student activism in the 1960s.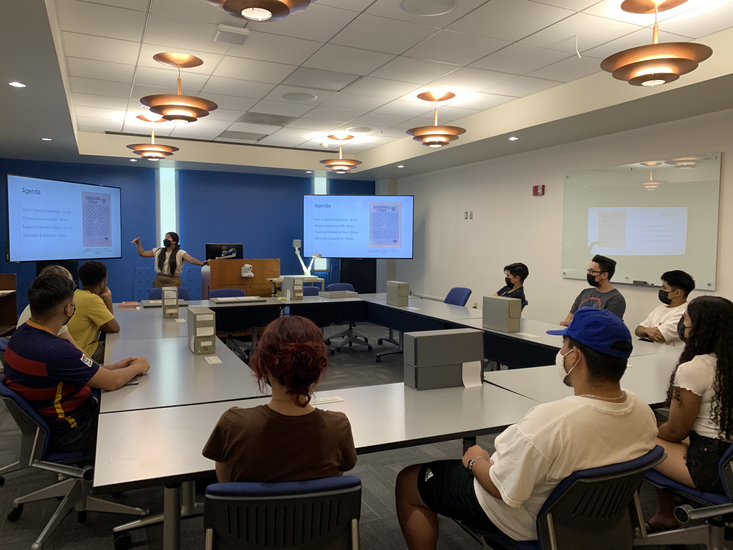 Much of it is print material such as fliers, petitions, posters, advertisements, newspapers, and newsletters. Collectively, they provide a wealth of information about Chicano history at UCR in the 1960s and 1970s during a pivotal time in the civil rights movement, Enriquez said.
"I think it's very important for UCR students to see themselves represented in the archives," she said. "It's important that they realize they're part of a long legacy of student resistance and resilience, and that activism wasn't just limited to campuses like UCLA or UC Berkeley. UCR also played a role in this history and continues to do so today."
Enriquez said she hopes to post a guide on Latino studies for the library website to make it easier to access the materials.
"Most students say they didn't expect these materials to be here, and that they want to come back and spend more time looking at them," Enriquez said. "I always urge students to return and take up space in the archive, because they have every right to be here."