UC Riverside's newest center will focus on cannabinoid research. 
A cannabinoid is a chemical in marijuana that causes drug-like effects and mimics naturally produced chemicals in the body called endocannabinoids. Drugs containing cannabinoids may help treat symptoms associated with cancer chemotherapy and HIV/AIDS. 
Nicholas V. DiPatrizio, an associate professor of biomedical sciences in the School of Medicine, will direct the UCR Center for Cannabinoid Research, or UCRCCR. He answers a few questions about the center, which is funded by the School of Medicine.
Q. Why launch a center that focuses on cannabinoid research?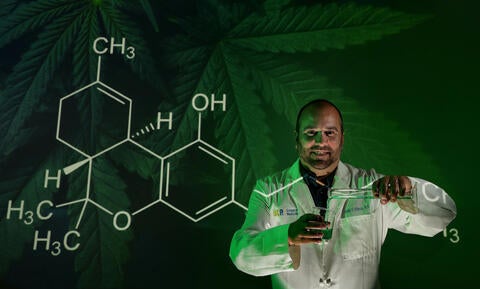 It's a very exciting time for cannabinoid research. Cannabis is rapidly becoming legalized across the United States for medicinal and recreational purposes, with 37 states (and Washington D.C.) to date having laws for medicinal use and 19 for recreational use. There are large gaps, however, in our understanding of how cannabis use impacts health and disease. UCRCCR was developed to advance our knowledge in this area and to do so in an unbiased manner unaffected by dogmas and stigmas that have plagued cannabinoid research for decades.
Cannabinoids interact with the endocannabinoid system located throughout the mammalian body, including the brain and all peripheral organs. The system controls many physiological functions, including food intake, energy balance, and reward.
Q. What will be some of the center's research projects?
UCRCCR is comprised of scientists, clinicians, and trainees with common interests in investigating the biology of the body's natural cannabinoid system, called the endocannabinoid system. UCRCCR will be a central hub for collaborative studies aimed at improving our understanding of roles for the endocannabinoid system in health and disease, and the impact that cannabis use has on these processes. This system, which is hijacked by chemicals in the cannabis plant, is present in every organ of the body and controls nearly every physiological function, from metabolism to pleasure. As such, this work requires a highly multi-disciplinary approach, which is inherent in our participating faculty's research programs and will ensure success at the interface of translating cannabinoid-related biomedical knowledge to clinical application.
Q. How unique is UCRCCR?
UCRCCR embraces a holistic approach to cannabinoid research. To understand how cannabis use impacts health and disease, we must first identify the biology of the endocannabinoid system and how it controls bodily function. Our team of researchers are uniquely positioned for success in this area given our broad range of expertise in the biomedical and clinical sciences. Furthermore, UCRCCR will be the public-facing entity at UCR for interfacing with the public and the press to provide reliable subject matter expertise on cannabinoid biology and ongoing research. An additional component will be to train and support our next generation of cannabinoid scientists. 
We will measure our success by the discoveries we make that advance our understanding of roles for the endocannabinoid system in health and disease, and the clinical application of this knowledge to improve the health of our community. UCRCCR will serve to inform the public about the health impacts of cannabinoid use and will contribute to guiding related science-based public policy.
Researchers interested in joining UCRCCR as participating faculty and investigators may contact DiPatrizio or UCR Biomedical Sciences.