When Lorena Peñaloza begins her new role as UC Riverside's chief campus counsel it will be a homecoming of sorts for the Inland Empire native.
Peñaloza, who has served as chief campus counsel at UC Santa Cruz since 2017, will join UCR on Jan. 3, Chancellor Kim A. Wilcox announced Friday, Nov. 4.
As a high school student growing up in San Bernardino and Colton, UCR played an important part in her journey as a first-generation student. She spent many nights studying at the Tomás Rivera Library, finding it to be a place where she could focus on her studies and draw upon resources not available at her local school.
She was the first in her family to go to college, earning a bachelor's in sociology and political economies of industrial societies at UC Berkeley and a law degree from UC, Hastings College of the Law. Her siblings and cousins followed in her footsteps, also going on to pursue higher education.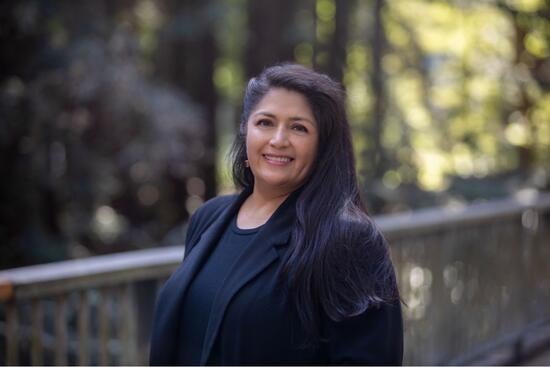 "It introduced me not only to higher education but also to the opportunities a higher education provided and really changed my trajectory as a person," Peñaloza said. "The incredible mentors and visionaries within San Bernardino and Riverside counties encouraged me and carved a path for me through programs like Upward Bound and Inland Empire Future Leaders. Returning to UCR gives me an opportunity to give back to my home community."
As chief campus counsel, Peñaloza  will report to Wilcox and the University of California's systemwide General Counsel and Vice President of Legal Affairs Charles Robinson, and will serve as the senior advisor on the legal impacts of policies and decision-making for the UC Riverside campus. The chief campus counsel provides legal advice on a variety of issues in higher education; works with campus members to develop or modify practices and procedures to conform with University policy and legal requirements and reduce risk; acts as a liaison with outside law firms; and monitors litigation and legislation affecting university operations.
"Lorena brings to UCR a wealth of legal expertise in both higher education and public service," Wilcox said. "A veteran of the UC system, we look forward to introducing her to UCR and our campus needs."
At UC Santa Cruz, she advised the campus on a broad range of legal issues including housing, employment, Title IX, police, and student safety and conduct issues.
"Lorena is an exceptional lawyer and a valued member of the UC Legal leadership team," Robinson said.  "UCR is fortunate to have her as its Chief Campus Counsel and will benefit from her strategic, collaborative and inclusive approach to legal services." 
Peñaloza said UC Santa Cruz and UCR share some similarities in the size and diversity of their student populations. With its growing School of Medicine and School of Business, UCR also offers new opportunities for her in the legal realm.
"It's a campus committed to diversity, which is near and dear to my heart," she said. "It's a campus with an exceptional reputation that is beginning to be recognized, not only nationally but globally. To be part of that and find collaborative and creative ways to contribute feels like a wonderful opportunity."
Peñaloza describes her role as providing advice to clear the path for the university to achieve its goals, whether its future growth, implementing new programs and initiatives, or elevating the lives of the campus community. 
Her personal experience as a student and her work at UC Santa Cruz has given her a strong affinity for the UC system's mission to transform students' lives through education and help them use what they've learned to transform their communities.
"It's a place committed not only to your own personal growth but what your growth means for the world and how you can be a contributing member," she said. 
Before joining the UC system, she worked as a litigator and later university counsel in the California State University's Office of General Counsel. She has also served as an assistant city attorney for the City of Santa Ana and began her career with the Social Security Administration's Office of General Counsel. 
Peñaloza said she was drawn to a career in law and as a litigator because it was an opportunity to tell a client's story and try to achieve justice for them. She chose to practice in public sector law, describing it as where communities are most affected and she could help make a difference.
"Everything that higher education stands for is part of the fabric of who I am. I felt like I found my calling in the sense of what we do is really about changing the world, and higher education does that in such a meaningful way," she said. "To be part of that, even in a small way, is a profound honor."