Dana E. Kaufman, UC Riverside assistant professor of music composition was speaking at Amherst College in 2019 when a former professor suggested she pitch a project for the college's bicentennial celebration. 
As a composer who gravitates towards storytelling that highlights marginalized identities and narratives, Kaufman wanted to amplify a story connected to her alma mater: Emily Dickinson, the American 19th-century poet, was an Amherst native with strong ties to Amherst College. The school now owns Dickinson's house, which is a museum, along with The Evergreens where her brother and his wife, Susan "Sue" Huntington Gilbert Dickinson lived.
Dickinson was a natural choice due to the school connection, but Kaufman wanted to provide a perspective not yet fully explored.
"We have ample evidence that Emily and Sue were indeed lovers. This is a narrative that has been suppressed by historians over the last 150 years," Kaufman said. "I think composition is an extraordinarily powerful platform to highlight marginalized identities and stories that have normally been considered taboo."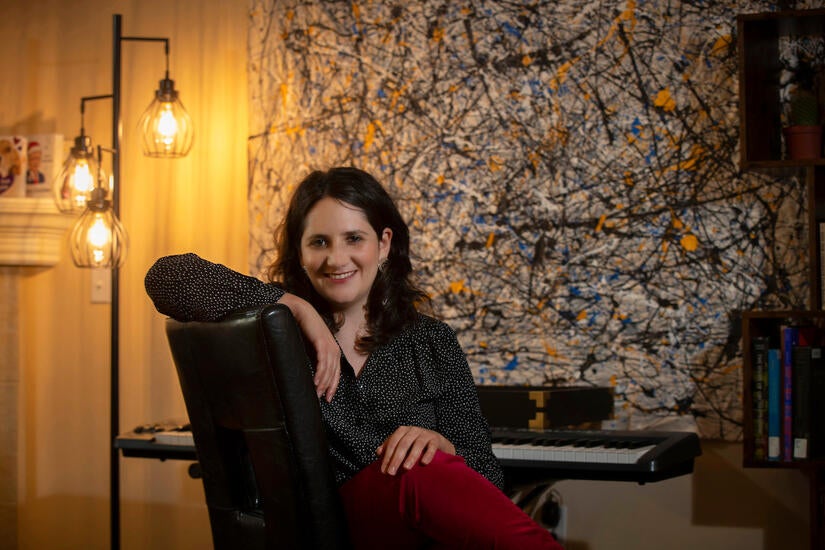 Aiden K. Feltkamp, an expert in queer opera, suggested telling the story of Emily and Sue and agreed to collaborate with Kaufman on the project and write the libretto, or the lyrics, to the opera. Much of Kaufman's work focuses on queer opera and storytelling, with a focus on composing for trans voices. 
After approximately two-and-a-half years, "Emily & Sue" debuted for a live audience in June at Amherst College. The album with 15 songs was released November 11 and the live New York City premiere of "Emily & Sue" was at the National Opera Center on November 13. The performance also became a film, which was screened at The Tank, also in New York. Kaufman returned to Amherst for a film screening and Q&A, hosted by the Emily Dickinson Museum, on Nov. 30. An online premiere in collaboration with The Tank is forthcoming.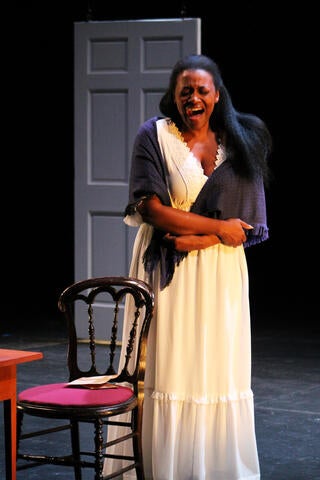 The live version of "Emily & Sue" is scheduled to be performed in Seattle in May and June 2023. "Emily & Sue" is slated for double-billed shows in 2024, with another opera Kaufman and Feltkamp are writing. 
Almost the entirety of Dickinson's work was published posthumously when it was discovered upon her death by her sister. Much of it is thought to have been edited to suppress her love for Sue, who was heavily featured in her poetry and correspondence. Sapphic love in the 19th century was taboo and Sue was married to Dickinson's brother, adding another layer to the illicit affair.
"Given how LGBTQ+ rights are being challenged in the states or are non-existent in so many places, this is an opportunity to be an activist through your art, and to give voice to such an important, but little discussed story," Kaufman said.
Kaufman wanted to compose an opera that was accessible to listeners without a background in music and incorporate various musical influences. "Emily & Sue" is a 45-minute a cappella pop opera that incorporates pop, folk, musical theater, madrigals, and Sacred Harp influences. Originating in New England and popular in the 19th century, Sacred Harp is an amalgamation of rural American and Christian tradition, Kaufman said. The libretto uses Dickinson's poetry and text from exchanged messages between both Dickinson and Gilbert Dickinson. The entire opera takes place in Emily Dickinson's room.
Amherst College began approving the project in the weeks before the COVID-19 pandemic hit. Kaufman and Feltkamp had to pivot, leaving behind plans for a musical arrangement that included a violin and cello, along with a soprano to sing. 
Soprano Jasmine Muhammad from the Metropolitan Opera Chorus became the only live performer. Kaufman and Feltkamp opted for a national award-winning a cappella trio, the Iris Vocal Trio, to create a pre-recorded backtrack that could be paired with one live singer as opposed to featuring multiple performers onstage simultaneously. This meant live performances could be done with just one performer on-stage, increasing COVID safety. 
Kaufman and Feltkamp decided to expand accessibility, at the suggestion of UCR colleague Ian Dicke, by creating a film version of the opera. The film was directed by Amherst College professor Ron Bashford in collaboration with Evan Chapman and Kevin Eikenberg from Four/Ten Media.
Dickinson spent much of her life in isolation and would often hold conversations in her home in ways that allowed her not to see visitors face-to-face.
The pandemic gave Dickinson's isolation a new parallel in the 21st century, Kaufman said.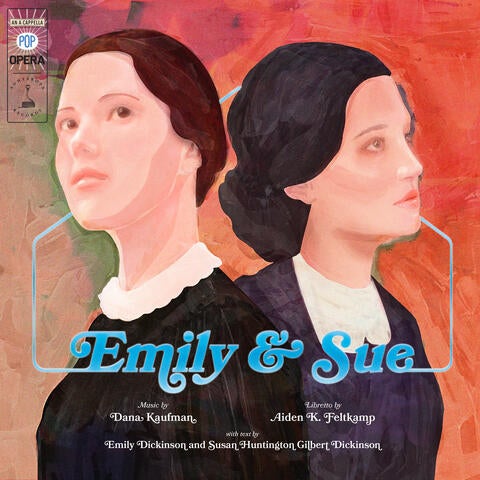 "Through her letter exchanges and her poetry, she was able to lead a really full and beautiful life with the outside world, but did not spend much time engaging in person," Kaufman said. "I think that message and that life took on particular meaning during the pandemic. It made us think about her in a more modern context because we all know what it's like to have been stuck in a room and to try and find ways to literally engage with the outside world when going outside and engaging in person was impossible."
Kaufman is also working on a project for the Louisville Ballet to appear in 2023, and an opera to debut in 2024. The upcoming opera is being commissioned by the Los Angeles-based new music organization Synchromy, and it also centers on an LGBTQ+ story. 
"Queer operas are having a really exciting moment in the arts and I look forward to continuing to see them flourish," Kaufman said.
Listen to Emily & Sue:
Purchase album: https://danakaufman.bandcamp.com/album/emily-sue
Listen online: https://soulspazm.ffm.to/emily-sue