Joi Spencer, the new dean of the School of Education, comes to UC Riverside with deep ties to Inland Southern California and a mission to help the region realize greater educational equity in public education.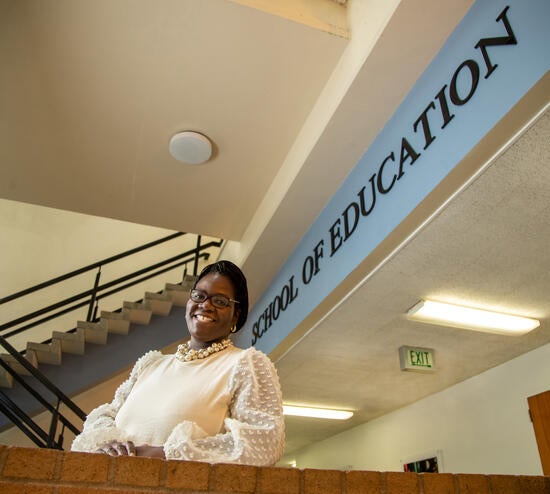 The daughter of working-class parents grew up in South Central Los Angeles and was bused to a magnet high school in Los Angeles. During her senior year, however, her family moved to Moreno Valley, the fast-growing city just east of Riverside, in search of a better life. 
Determined to complete her studies at the Los Angeles Downtown Business Magnet High School, Spencer stayed with her godparents in South Central during the weekdays. And every Friday evening, she packed some clothes and took a three-hour bus ride with several transfers to Moreno Valley to be with her family on the weekends.
Spencer's family was part of a migration of inner-city African American and Latino families that fueled explosive population growth in the Inland Empire in the 1980s and 1990s.
"So many African American families left South Central LA, looking for a kind of oasis," Spencer said. "They came to find opportunity. And my question is, 'Do they have it? Is it any better for them? Do we see any better outcomes here, educationally, than we see in other places?' And oftentimes, unfortunately, the answer is, 'no.' "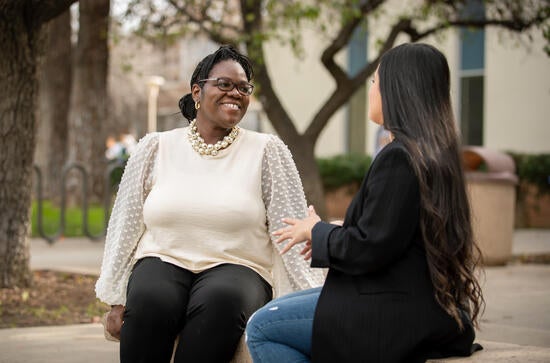 UCR, a national leader in social mobility, however, can improve outcomes by preparing future teachers and school administrators to address the inequities, she said.
 "We can be engaged in helping to prepare teachers who see differently and notice differently, who are attentive, who understand how race operates, how gender and sexism operate, who understand how inequities happen," Spencer said. "If we can do that, we can really have an impact in education.
Spencer said inequities persist in informal, subtle ways. Schools serving minoritized communities, for example, may not have afterschool or extracurricular activities. Or, classroom practices may help advance boys in subjects like mathematics, while leaving girls out.
 "The aspects of STEM (science, technology, engineering and mathematics) that schools emphasize like robotics may not interest all students equally," Spencer said. "But the field of STEM is larger than how we present it in schools — and all kinds of students are capable of succeeding and having an impact in mathematics and science."
Subtle inequities also occur in how teachers interact with students, Spencer said. She provided an example from her high school experience:
"In my calculus class, the guys hung out with our teacher after class," Spencer recalled. "They told jokes together. They drank sodas together and listened to music together. Now, that's not them saying, 'Oh, Joi, you can't do math.' But in a very subtle and sort of silent way, that teacher was affirming who was a math person. It was like an old boys' club. It was informal. That's where your inequity happens now. In the '60s and the '50s, maybe it was more formalized."
Still, Spencer said she had several great high school teachers and served as the student body president and the editor of the school newspaper. She went on to Stanford University, where she received a bachelor's degree in African and African American Studies and a master's degree in education. She later earned a Ph.D. in mathematics education from UCLA.
She comes to UCR after serving 16 years at the University of San Diego, most recently as a professor of mathematics education and as interim dean at the university's School of Leadership and Education Sciences.
Her earlier work included five years as a middle school teacher in East Palo Alto, a community with socioeconomics similar to South Central Los Angeles, but smaller in size.
"East Palo Alto was more like the values I grew up with," she said. "When we had an open house, families would come, and they might bring me dinner; they might bring me lunch; they might bring me some apples. They were amazing salt-of-the-earth individuals who had a deep care and concern for their kids but were stuck in a system that really stymied their kids."
She also worked with schools in Santa Monica and in other more affluent school systems.
"Truth is that students in more affluent communities get more opportunities to try out things," she said. "They have a panoply of opportunities for a young person to just figure out who they are, what they're interested in, find out what and who they can be, and that changes the tide…  I worked in some schools, where the students as young as the eighth grade would do an international trip. When you do an international trip to Europe, how much does that change your perspective?" 
She described UCR as an educational beacon that allows young people to grow and find their interests and passions and gain the knowledge and skills they need to pursue better lives. 
"I want even more youth to have access to a place like UC Riverside," she said. "I want to grow the teacher pipeline here and to build a cadre of educational thinkers and leaders who are committed to increasing educational equity in our region and beyond. Education is truly a liberatory force in our world."