UC President Michael V. Drake M.D. spent two days at UC Riverside this week meeting with undergraduate and graduate students, staff, faculty, researchers, and leadership to discuss issues ranging from expanding opportunity and affordability to addressing the health needs of Californians.
Drake toured several campus facilities, including the new Dundee Residence Hall, to learn more about student housing expansion on campus. He also visited the Center for Simulated Patient Care at the UC Riverside School of Medicine and engaged with medical students, met with researchers working on new breakthroughs, and held discussions with several segments of the campus on a range of issues. Although Drake has visited the campus several times before, this was his most comprehensive visit since becoming president of the University of California in August 2020.
Drake kicked off his campus visit on Feb. 27 at the UC Black Administrators' Council 2023 Conference, which held its first in-person gathering in three years at UCR's HUB. The conference was attended by about 300 administrators from all 10 UC campuses.
In his conversation with Raquel Rall, an associate professor at the UCR School of Education, Drake shared lessons learned along his career path and commended conference attendees for their efforts to make the University of California a more diverse, inclusive, and welcoming place for all.
In a wide-ranging conversation, Rall asked Drake about his approach to leadership, the challenges he's faced as UC president, and even his favorite food and music.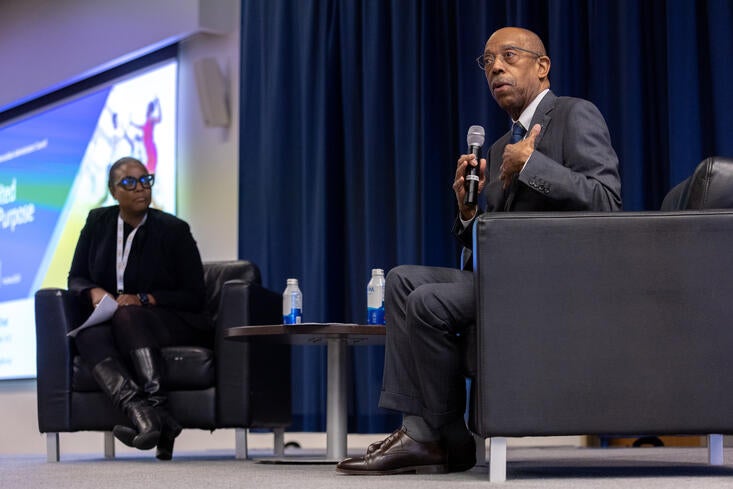 President Drake compared his leadership approach to that of a swimmer, noting that whether you're in a pool, lake, river, or ocean, you focus on doing what needs to be done, not what's below.
"You start swimming," he said. "If you stop swimming, you sink."
Rall noted that Drake assumed his role as president at the height of the pandemic and asked how he navigated that period.
Drake acknowledged UC community members for quickly pivoting to remote learning and work, mask-wearing, social distancing, and getting vaccinated. He also recalled that one of the first proposals that landed on his desk was to lay off 2,000 employees due to economic uncertainty.
"My response was, 'Let's try… no,'" Drake said, noting that he felt this was a time for the university to come together and get through the challenge as a community. This was not a time to cut jobs and health care benefits for employees, he said. 
In a more lighthearted round of questions, Drake shared that despite being invited to some fancy meals, his favorite food is sometimes just a bowl of breakfast cereal. A music lover who worked at Tower Records as a teenager, Drake also said he enjoys an eclectic mix of music but considers Miles Davis his favorite musician.
Monday evening, Drake attended a dinner hosted by Chancellor Kim A. Wilcox with community leaders and faculty members, including Riverside Mayor Patricia Lock Dawson, during which the group discussed how to expand opportunity and excellence in the Inland Empire.
On Tuesday, Drake met with graduate students and faculty entrepreneurs at the new Multidisciplinary Research Building and faculty leaders, and representatives from several staff groups in separate meetings at the Alumni and Visitors Center.
In a Tuesday luncheon, Drake joined 10 undergraduate student leaders from the Associated Students of UCR, or ASUCR, and the College Corps program to hear about their journeys to UCR and experiences on campus. Students said they were attracted by UCR's diversity and opportunities. 
Mufida Assaf, a fourth-year student and ASUCR president, said she discovered her passion for helping underserved communities and is pursuing public service opportunities. Sandy Reyes, a fourth-year student and College Corps member, said she found opportunities on campus that she didn't know were available to her as a Dreamer, referring to the Deferred Action for Childhood Arrivals, or DACA, program.
Drake shared that the UC system has been a strong supporter of the DACA program and will continue to push for permanent legislation supporting immigrant students, faculty, and staff. He said it was inspiring to spend time with passionate and focused undergraduate students.
"It was great hearing from them," President Drake said. "They had incredible enthusiasm and gratitude for their experience."
Jeanine Nassar, a third-year student and vice president of internal affairs with ASUCR, said she appreciated Drake's interest in hearing about their experiences at UCR.
"I feel like it bridges the gap between students and administration," she said. "I think it's important for administrators to hear these stories. It opens their eyes and ears to different points of view."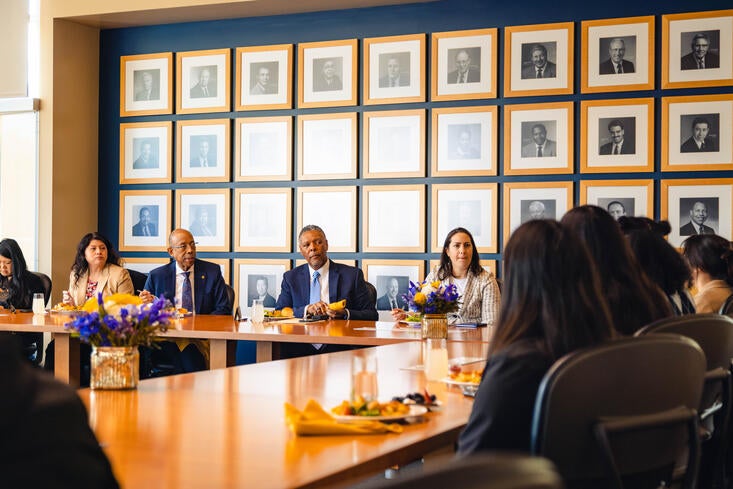 In a meeting later that day with the Health, Well-being and Safety leadership team, Drake commended UCR for its newly created division that brings together policing, health care, mental health support, and other services under one umbrella.
Wilcox said President Drake has been a strong supporter from the start of UCR's approach to integrating health, well-being, and safety services.
Drake, who introduced the UC Community Safety Plan in 2021, said it's important to tie campus safety, psychological support, and a culture of wellness together. He said he's eager to see the results of UCR's work.
"We'd love that to be a model for the rest of the university," he said.
Drake's Tuesday schedule also included a meeting with School of Medicine leadership and faculty and a tour of its Simulation Center, where he met with medical students. Drake has had close ties to the school since its founding a decade ago, when he served as an adviser. He continues to remain involved as a distinguished professor in the Department of Internal Medicine within the Division of Clinical Sciences.