For her first time competing in Grad Slam, UC Riverside student Elissa Monteiro ended up going far.
A doctoral student in school psychology, Monteiro last week won third place in UC Grad Slam 2023, an annual contest in which graduate students are judged on how well they communicate their research to a general audience in three minutes or less.
The systemwide competition on Friday, May 5 featured the first-place winners from each of the 10 UC campuses, vying for the top honor and a share of prize money. The contest was emceed by UC President Michael V. Drake and livestreamed from LinkedIn's headquarters in San Francisco.
Winners were selected by a panel of judges representing industry, media, government, and higher education. 
UCLA student Brandon Tsai won first place for his presentation on next-generation COVID-19 vaccines. UC Davis student
Julia Mouat took second place.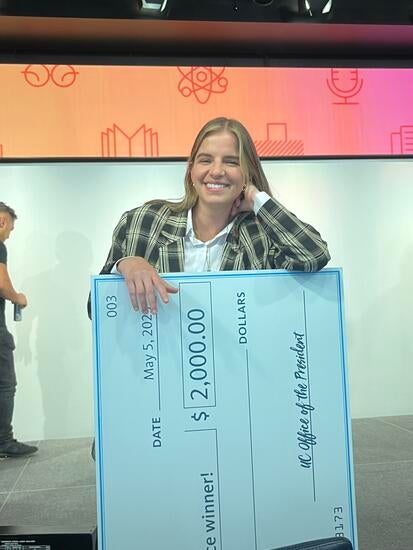 Monteiro won a $2,000 prize for third place. She previously won $5,000 for first place at UCR on March 9.
Her presentation focused on her research into attention deficit/hyperactivity disorder, or ADHD, and creating a screening system to identify children with those symptoms early and providing them support.
As the only student from an education discipline in the competition, Monteiro said she was nervous but found that all the competitors were kind and supportive. They calmed one another's nerves and gave thumbs-up signs as they got on and off the stage.
Monteiro said she worked to refine her presentation since January.
"My success with Grad Slam this year has taught me so much about how best to communicate research to the community, how to convince people that my work is important, and I have received so much positive feedback about the impact my work is making," she said.
Monteiro and other competitors took part in several rounds at the campus level, receiving regular feedback and coaching throughout the process.
The experience has offered Monteiro the opportunity to speak to community stakeholders and meet several systemwide UC officials. In a few weeks, she'll present a talk for TEDxUCR.
One of the most rewarding experiences has been hearing from families affected by ADHD, Monteiro said.
"Each time I've given this talk, someone has come up to me later to say they have — or their child has — ADHD or autism, and their experience felt seen and validated when I spoke," she said. "That has been the sweetest gift."