Los Angeles Times Executive Editor Kevin Merida recounted stories from his 44-year career in journalism while illuminating the behind-the-scenes work of journalists as part of the 54th Annual Hays Press-Enterprise Lecture.
Merida spoke to students, staff, faculty, and community members Tuesday, May 9 at the University Theater in the first in-person event in the lecture series since 2019. The previous three lectures were held virtually due to the pandemic.
Merida took over as the top editor of the largest newsgathering organization in the West in June 2021 at a time when the 141-year-old newspaper is seeing a resurgence following its 2018 purchase by billionaire medical technology entrepreneur Patrick Soon-Shiong.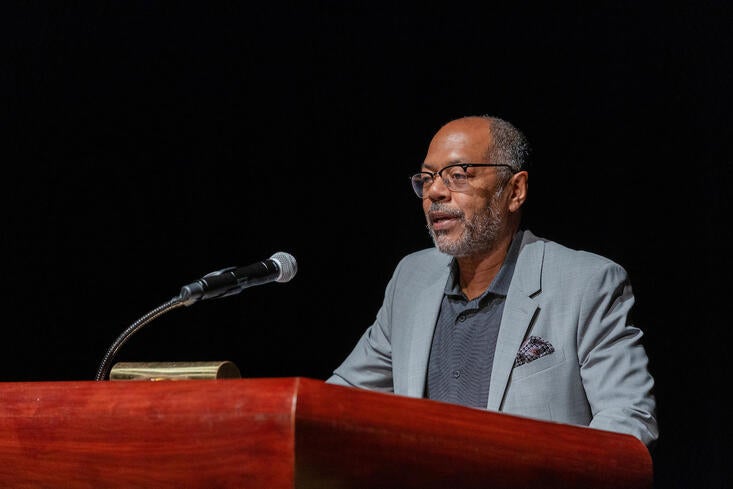 Just a day before his lecture, the Times celebrated the news that it had won two Pulitzer Prizes for breaking news and photography, the fifth year in a row it has won at least one Pulitzer. It has a total of 51 Pulitzers throughout its history.
Merida, noting that he was still feeling the glow of those wins, said he wanted to use his lecture to humanize the difficult but important work of journalism even as the industry faces all sorts of challenges.
"I know we don't rank in the highest tiers of professions that are loved," he said. "But we should. Journalists are among the few professions that do their work in public, often under deadline pressure."
The public rightfully scrutinizes the work of journalists, but Merida said it's important to understand the circumstances under which they work.
"I sometimes worry in this fast-paced digital environment of hot takes and pop-up sites with new rules the public sometimes forgets how difficult journalism is to produce," he said.
He compared it to athletes whose work is judged in the midst of the action by fans. But unlike athletes, who have time to prepare for a game, reporters often don't know when they'll be called to an important story.
Merida recalled how he was watching football and drinking a beer at home when he was called into the Washington Post, where he was a reporter, to cover the killing of Osama Bin Laden. Or how in January this year, Los Angeles Times reporters were at a memorial for one of their colleagues when they were called to a mass shooting in Monterey Park in which 11 Asian Americans were killed.
"That's part of the life of journalists, doing the work under pressure, many times under difficult circumstances," Merida said.
Daryle Williams, dean of the College of Humanities and Social Sciences, emceed the lecture while Joi Spencer, dean of the School of Education, moderated a Q & A session.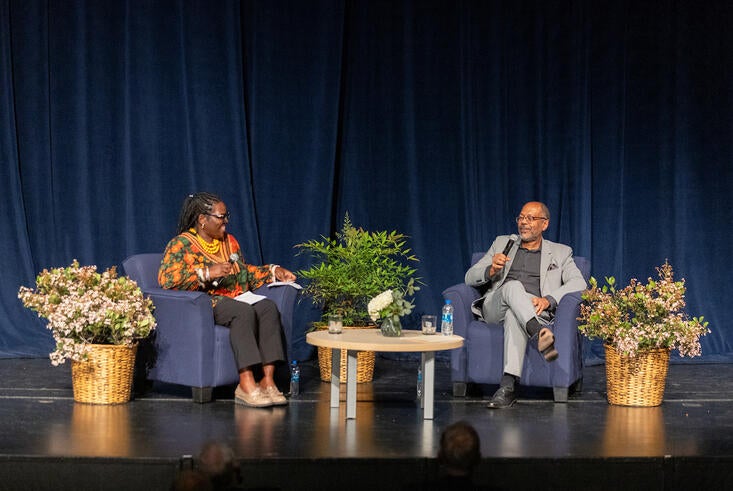 Spencer asked Merida about a variety of topics, from what he thought of Los Angeles as a newcomer to his advice for aspiring journalists.
On the latter question, Merida said younger journalists have more opportunities to advance their careers than when seniority was more important in newsrooms. They've grown up in the digital age and can use that knowledge to come up with new ideas to reach audiences in different ways, he said.
For instance, at the Los Angeles Times, journalists produce podcasts, Tik Tok videos, and other digital content that goes beyond just news articles.
"It's a rich, exciting time," Merida said.