The Gov. Newsom administration selected members of UCR's Research and Economic Development team to join a California delegation that met with international entrepreneurs, investors, companies, and industry experts at a four-day investment summit in Maryland earlier this month.
It was the first time the governor's Office of Business and Economic Development included higher education officials in its delegation to the annual SelectUSA Investment Summit, which was organized by the Biden administration. It convened in National Harbor, Maryland, May 1-4.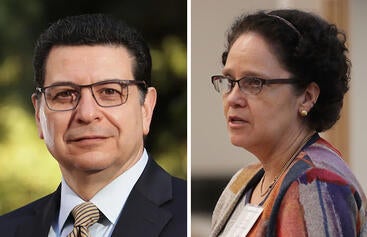 UCR representatives and other members of the California delegation engaged with more than a hundred international companies interested in establishing operations in California and shared information on incentives, services, facilities, and other resources available in the state.
Rodolfo H. Torres, vice chancellor for research and economic development; Rosibel Ochoa, associate vice chancellor for technology partnerships; and Kathy Eiler, senior director of federal relations, represented UCR in the delegation. They worked with regional partners to promote Inland Southern California as a place for businesses to start up at low costs and scale up as they grow. 
The UCR representatives also met with federal officials and discussed grants and funding opportunities from the federal CHIPS and Science Act, which provides roughly $280 billion in new funding to boost domestic research and manufacturing, and the Inflation Reduction Act, which includes investments in domestic energy production while promoting clean energy.
Torres delivered the keynote address at the "Meet California Breakfast," with a message focused on why California is an attractive destination for international businesses. His keynote highlighted the strengths of Inland Southern California as a region with a growing innovation and entrepreneurship environment that focused on developing sustainable solutions to address the world's complex problems.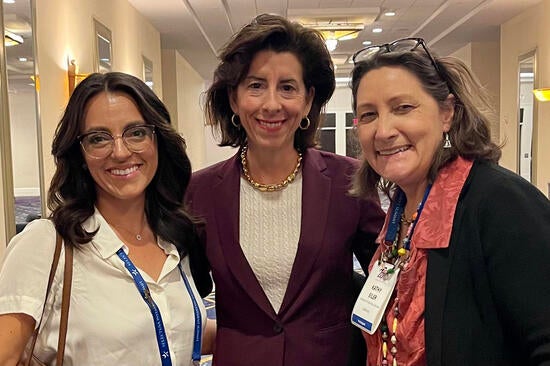 UCR contributes to economic development and supports innovation and entrepreneurship on the campus, in the community, and beyond, Torres said. He provided an overview of the Opportunity to Advance Sustainability Innovation and Social Inclusion initiative, known as OASIS, which provides grants to help bring the university's innovations to the marketplace. He also described UCR facilities that foster entrepreneurship, including the Nanofabrication Lab, the BREATHE Center housed in the School of Medicine, and the College of Engineering's Center for Environmental Research & Technology, or CE-CERT.
UCR and its Inland Southern California regional economic development partners expect to follow up with international companies and help them navigate the U.S. markets and identify funding sources, private investors, business sites, and workforce training programs.
SelectUSA is a U.S. Department of Commerce program that focuses on helping foreign companies set up operations in the United States. Since its inception, SelectUSA has facilitated more than $146 billion in investment, creating and/or retaining over 166,000 U.S. jobs.
 
Cover photo courtesy of the federal International Trade Administration