Two UCR Transportation and Parking Services officers were recognized by a state organization for their prompt response in an emergency.
Officers Diana Serrano and Joseph Ray Osborn received the Wayne Dalton Award from the California Public Parking Association in an all-staff December TAPS meeting. The recognition comes seven months after they observed a middle-aged man collapse to the ground from a heart attack. Serrano and Osborn immediately responded, providing basic support, initiating emergency calls, and blocking off traffic. 
"I saw a gentleman fall and hit his head on the sidewalk. We decided to stop and help to make sure the gentleman was OK," said Osborn, 26. The incident occurred in May near the intersection of University Avenue and West Campus Drive.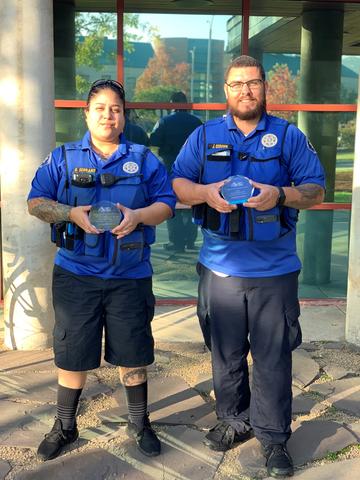 While Osborn cleared pedestrian and vehicle traffic in order for emergency vehicles to access the injured man, Serrano made sure the individual was still breathing and provided basic health history to the 911 operator, which she obtained from the man's wife. The couple were on their way to visit their daughter on campus.  
Once the ambulance took the man to the hospital, Osborn and Serrano followed TAPS protocol: they filed an incident report and went home.  
Rick Collins, TAPS parking enforcement supervisor, read their report, but didn't know the details. It wasn't until a day later that Collins found out what the incident entailed. He received an email from a UCR Police Department officer, praising Osborn and Serrano for their swift response and support to emergency personnel. 
"They stopped and took the extra step. For new officers, that's a great way to show initiative," said Collins. Collins and his boss, Andrew Stewart, TAPS superintended of facilities and lot operations, nominated them for the award. Osborn has been with TAPS since August 2017. Serrano joined the TAPS team in May 2017.
Neither parking officers had ever encountered such a situation, they said. However, they had taken multiple classes and have online training sessions to prepare for emergencies.
"We reacted out of impulse, we reacted really fast," said Serrano, 28. "The man was breathing when the ambulance took him and that's a good thing."