Peter Graham, a UC Riverside professor of philosophy, has been awarded a 2019 Humboldt Research Award, a prize given by the Alexander von Humboldt Foundation to top scientists and scholars outside of Germany.
He is the first professor from the College of Humanities, Arts and Social Sciences to receive the award.
Only 100 scientists and scholars from around the world are chosen to receive the Humboldt Research award annually.  Recipients are able to continue to pursue their groundbreaking research through a €60,000 (approximately $67,000) award and one-year residency in Germany.
In June, Graham will travel to Bamberg, Germany, where he will be presented with the award for his innovation in philosophy and epistemology. Graham's research focuses on connecting thinking about functions within the capacities of perception and testimony, and how we come to know about the world through them.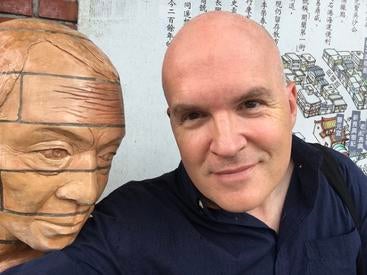 "The idea I have been pursuing is that we should think of knowledge as a kind of success through the exercise of an ability," Graham said. "We think about perception in particular, 'What's the function of perception?' It is to represent the environment, to represent it accurately—when that capacity to perceive, to represent accurately fulfills its function—that's when you are going to get knowledge."
The Alexander von Humboldt Foundation provides sponsorship for some of the world's most elite academics. According to its website, potential awards candidates must have made "fundamental discoveries, new theories, or insights" that have had a significant impact in their research field.
"The Humboldt Research Award and its motivation are to recognize outstanding researchers across all domains with a focus on sciences, social sciences, and various parts of the humanities," Graham said. "They recognize winners with an award and the hope is that it will be used to build more collaborative research projects with academics and researchers in Germany."
Graham has taught at UC Riverside since 2001. For the past seven years, he has served as both the Associate Dean of Student Academic Affairs, and the Associate Dean for Arts and Humanities within the College of Humanities, Arts, and Social Sciences.