Kawai Tam, a UC Riverside associate professor of teaching of chemical and environmental engineering, has been named the John J. Guarrera Engineering Educator of the Year.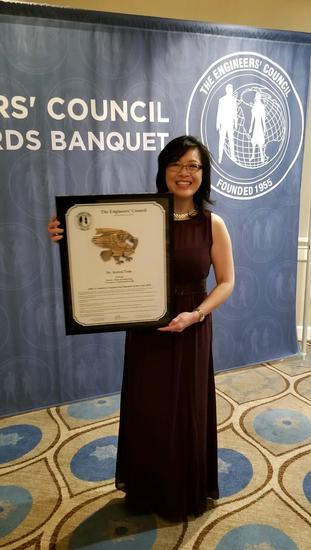 The award was presented to Tam by the Engineers' Council at a Feb. 23 ceremony in Universal City. The group bestows the award to individuals with significant achievements in motivating and involving students in engineering. It is named for a founding member of the council which formed in 1955  ̶  originally as the San Fernando Valley Engineer's Council – to advance the art and science of engineering. 
Tam has increased the retention rate of first-year chemical and environmental engineering students to 90 percent, is the faculty advisor to the UCR Engineers Without Borders chapter and has worked with students to develop simple and sustainable technology for developing countries, according to the nomination papers listing her accomplishments.
"Her guidance, encouragement and training to her students enables them to realize their potential," the nomination paper stated.
Tam, who was presented with the award by the previous year's winner and UCR professor Cengiz Ozkan, said she was humbled to be recognized. 
Since becoming an educator, I have made it my mission to pay it forward and help the next in line," Tam said. "All of my efforts in preparing our students for their careers and instilling life-long learning has been worth it when my students achieve their dreams and are happy. The award is the recognition that I have had a positive impact on the next generation of engineers."
A faculty member at the Marlan and Rosemary Bourns College of Engineering, Tam was the recipient in 2017-2018 of the Chancellor's Award for Excellence in Undergraduate Research and Creative Achievement, and the BCOE Distinguished Teaching Award.