Wei Liu, an assistant professor in the Department of Earth Sciences at the University of California, Riverside, has been awarded a prestigious Sloan Research Fellowship for his work to improve our understanding of the ocean's role in climate change and climate variability.
Sloan Research Fellowships honor early career scientists and scholars whose achievements mark them as among the very best scientific minds working today. Sloan fellows stand out for their creativity, for their hard work, for the importance of the issues they tackle, and the energy and innovation with which they tackle them. The fellowships, which are awarded to 126 researchers annually, are given by the Alfred P. Sloan Foundation, a nonprofit based in New York City.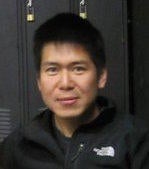 Liu's research focuses on currents in the Atlantic Ocean that affect the climate. In the upper layers of the Atlantic warm, salty water flows north, while colder, deeper water flows south. This is called the Atlantic Meridional Overturning Circulation, or AMOC. Liu studies how abrupt changes in this ocean circulation affect long-term climate projections.
Observations suggest a risk of a rapid AMOC weakening or potential collapse in the near future. The United Nations' Intergovernmental Panel on Climate Change, or IPCC, downplays this risk. Nevertheless, one critical issue remains: should the IPCC model projections be fully trusted?
"With the support from the Sloan Research Fellowship, I aim to achieve an in-depth understanding of AMOC stability that will greatly help to improve our climate predictions," said Liu.
The fellowships are awarded in eight scientific and technical fields: chemistry, computer science, economics, mathematics, computational and evolutionary molecular biology, neuroscience, ocean sciences, and physics. Winners receive a two-year $65,000 fellowship to further their research.
Candidates must be nominated by their fellow scientists and winning fellows are selected by an independent panel of senior scholars based on their independent research accomplishments, creativity, and potential to become a leader in their field.
Fourteen UC Riverside faculty members have received Sloan Research Fellowships since the foundation started awarding them in 1955. Sandra Kirtland Turner, also an assistant professor of earth sciences, was the most recent recipient after being selected in 2018.
A press release and full list of the 2019 fellows is available at the Sloan Foundation website.