Three students at UC Riverside got the opportunity to represent the campus at the "Speech Matters: The Future of Free Expression on Campus" conference at the UC Washington Center, or UCDC, on March 21. The UC National Center for Free Speech and Civic Engagement invited up to three students from each UC campus to the inaugural conference.
The UCR students got to dialogue with other students and UC National Center for Free Speech and Civic Engagement fellows, and enjoyed an insider's perspective on the future of civic discourse and engagement in American life from renowned policymakers, opinion-shapers, and influential academics.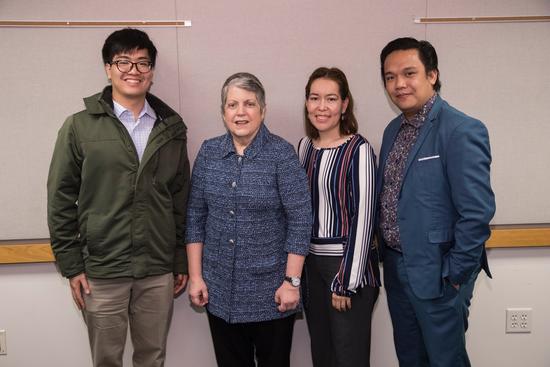 Irma Ortiz, a Ph. D student who expects to graduate this year, said her participation helped her learn more ways to communicate graduate student needs to policy makers and higher education administrators that can have a positive impact in increasing the diversity in graduate students.
"As a first-generation college student, I found out at an early stage of my graduate school education that I can advocate for graduate students with diverse backgrounds such as myself," she said. "I believe that student diversity in higher education is important to expand research ideas from different perspectives."
Jemuel Jr B. Garcia, a Ph.D. student in critical dance studies with an emphasis in southeast Asian studies, applied to take part in the conference largely because he wanted to be "one of the voices for people of color, international students, and artists who are at times minoritized in terms of free speech and civic engagement."
"I believe that free speech is fundamentally important for a student like me because the way I think, talk, and embody myself in the university is facilitated by exchange and evaluation of ideas where possibilities for change may be realized. That way of communication is primarily enabled by free speech," said Garcia who expects to graduate by 2023.
Samuel Khong, an undergraduate biochemistry major who plans to graduate in 2020, believes free speech is the cornerstone of being able to think and allows for viewpoints and ideas to be sharpened and refined. He wanted to get involved because he felt that "the campus culture was moving away from an environment conducive to free and open debate."
"In my experience, some topics were becoming too taboo or too sensitive to address," he said. "Through this conference I got a better understanding of how attitudes of free speech were changing both at UCR and across the academic world."
The students' attendance at the conference was funded by the UC National Center for Free Speech and Civic Engagement.