The National Institute of Food and Agriculture, a division of the U.S. Department of Agriculture, has awarded nearly $500,000 to Elia Scudiero, a professional researcher in the environmental sciences department, for a project helping California's farmers use water more efficiently while protecting crops.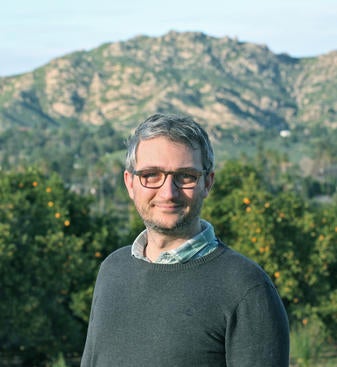 ​The Food and Agricultural Science Enhancement New Investigator grant Scudiero received is a highly competitive award given to researchers at the beginning of their careers.
Scudiero came to UC Riverside as a postdoctoral researcher from Padua, Italy, in 2014 and became an assistant research agronomist in 2018. He studies properties of soil, such as salinity and water content, to increase the economic and environmental sustainability of farms. Scudiero carries out his research at the U.S. Salinity Laboratory, one of USDA-Agricultural Research Service's national laboratories, which is located at UCR.
It is important to study soil salinity, Scudiero said, because it is a threat to crop production around the world. Salts accumulate in soil both from natural and manmade sources, such as fertilizers and salts in irrigation waters. If there is too much salt built up near the soil surface, it can prevent vital processes in plant growth and even cause crops to fail entirely.
Out of an abundance of caution and without accurate salinity measurements, farmers have traditionally over-irrigated their fields to send salts into lower soil depths where they can't harm crops. However, this practice is being scrutinized as both the quantity and quality of water becomes scarcer.
For this project, Scudiero is leading a team of scientists, including UCR Assistant Professor of Computer Science Ahmed Eldawy, in an effort to accurately measure soil salinity for most of California's farmland, so growers can use only the amount necessary to protect their crops.
"One of the objectives of this project will also be to map changes of salinity in California over time, from the 1970s until now, so we can discuss the way droughts, climate change, and other factors are affecting the sustainability of the state's agriculture," Scudiero explained.
Beginning July 1, the team plans to combine ground measurements with remote sensing imagery to generate precise maps of the state's soil salinity and an irrigation recommendation tool for California's farmers.