Mark Wiley, a doctoral student in biomedical sciences working with faculty members Nicholas DiPatrizio and Meera Nair, received the American Associations of Immunologists Young Investigator Award for best oral presentation on June 28 at Immunology LA 2019, hosted by Cedars-Sinai Medical Center.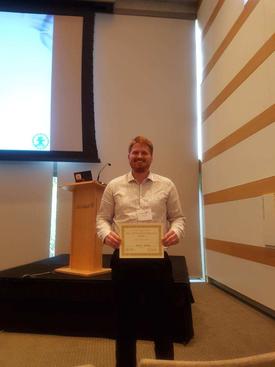 Wiley's presentation, titled "Lipid Talk: Endocannabinoids Regulate Mucosal Inflammation Following Helminth Infection," centered around the therapeutic potential of targeting the body's natural cannabis system — the endocannabinoid system — to help promote clearance of hookworms.
 
"Hookworms are found in over 500 million humans worldwide and this research is exploring the potential of cannabis to help treat these infected individuals," Wiley said. "We are the first group to consider the role of the body's natural cannabis system in this context of infection. Current therapeutics often fail to reach infected individuals living in impoverished regions. Cannabis, however, readily grows in many of these areas and may provide a more accessible therapeutic option for hookworm-infected individuals."
 
The award was accompanied by a $250 check.