UCR Dining Services has won a Spotlight Award from the UC Office of the President for its R'Safety Program.
The program, which was rolled out at the campus' cafes and dining halls over the past year, promotes workplace safety through increased employee engagement on safety issues and injury prevention, said Gustavo Plascencia, safety and sustainability manager for UCR's Housing, Dining and Hospitality Services."
As part of the program, Dining Services has instituted daily huddles with a safety message, promotes a weekly safety topic, and conducts daily and monthly hazard inspections. The department tracks its success with a Web and App-based software program and has seen safety incidents drop 26% from the previous academic year.
The UC chief risk officer established the Spotlight Award to recognize achievements by risk and safety professionals systemwide. The awards are given in two categories: innovation and excellence. R'Safety won in the innovation category.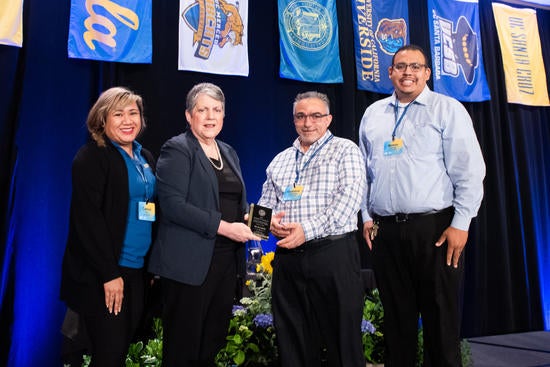 UC President Janet Napolitano presented the award at UC's Risk Summit on May 30 to Cassie Taan, UCR dining systems manager;  Plascencia; and Moses Preciado; dining manager at Aberdeen-Inverness Residential Restaurant.
The dining team also gave a presentation about the R'Safety program at the summit.