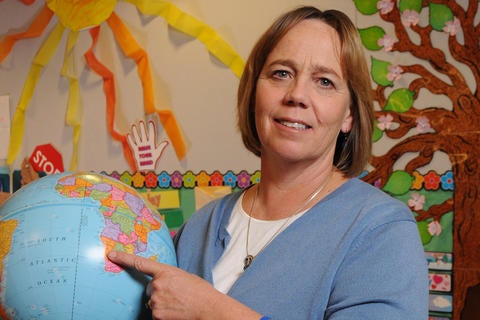 Mary Droser, a decorated paleontology professor, now has another accolade to her name. She is the winner of the 2019 Moore Medal in Paleontology awarded by the Society for Sedimentary Geology. 
More than 2,700 geoscientists belong to the society, which exists to help members share research with one another and enhance public awareness of the important role science plays in society. The group's annual award recognizes excellence in paleontology, with particular consideration given to those who advance the society's major objectives. 
One of these objectives is to advance the science of stratigraphy, which analyzes layers of sedimentary rock built up over time, and how life on Earth evolved. Droser studies Australian fossil beds that date back to the Ediacaran period, roughly 550 million years ago. Her work has been essential to understanding the early life forms, including how they lived and reproduced. 
Another of the society's primary objectives is promoting the use of fossils for understanding extinct environments. This is another area in which Droser's contributions have been widely recognized. She uses Ediacaran-era fossil beds to reconstruct the ancient ocean floor, and to understand what kinds of animals were living on it. 
Moore Medal recipients are required to have been in their field for two decades since receiving their doctorate and must have made outstanding contributions to it during that time. 
Most recently, Droser's pioneering work formed the basis for a new agreement between UCR and the Australian government. It enables university researchers to continue using government-owned land, which harbors on of the best collection of Ediacaran animal fossils on Earth.