UC Riverside student Jennifer Le is among about 400 college students across the nation to be awarded the Barry M. Goldwater Scholarship, one of the most prestigious and competitive awards in the science, technology, engineering, and mathematic fields, or STEM.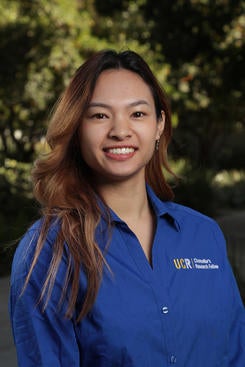 From a pool of over 5,000 sophomores and juniors, 1,343 students were nominated by 461 academic institutions to compete for the 2020 Goldwater scholarships, ultimately awarded to 396 recipients. Each scholarship comes with a one-time award of up to $7,500.
The nomination letter described her as demonstrating exceptional potential and said she "is on an excellent trajectory to becoming a leading independent investigator."
Le is also a UCR Chancellor's Research Fellow. The 20-year-old junior plans to pursue a doctorate in biomedical science with the goal of becoming a professor, mentoring students and conducting research.
She chose to study biochemistry because of the way it connects different areas of science.
"In high school, I remember being excited about it because it explained the complexity of seemingly trivial occurrences and the importance of these occurrences," Le said.
While maintaining a 3.9 GPA, she's been a researcher for Jernej Murn, an assistant professor of biochemistry, in his biochemistry lab, and launched a program at Moreno Valley High School mentoring girls pursuing STEM studies. 
"I wanted to ensure that other females had the same opportunities as I did, but at an earlier age so that they may feel more confident in their abilities and have a stronger sense of direction for their careers," said Le, a first generation American whose parents immigrated from Vietnam.
She said the Goldwater scholarship will help alleviate some of the financial burden and allow her to spend more time on her studies.