Armando García, an assistant professor of English, and María Regina Firmino-Castillo, an assistant professor of critical dance studies, have been named 2020 Career Enhancement Fellows by the Woodrow Wilson National Fellowship Foundation. 
The fellowship, which is funded by the Andrew W. Mellon Foundation and has been administered by the Woodrow Wilson Foundation since 2001, seeks to increase the presence of underrepresented junior faculty members in the arts and humanities by creating career development opportunities for selected fellows with promising research projects. 
García and Firmino-Castillo were among 10 junior faculty members awarded a 12-month fellowship.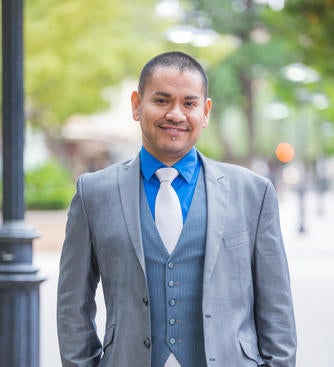 García, who joined UCR in fall 2017, specializes in Latinx and Latin American literature, theater, and performance studies. His research focuses primarily on race, migration, decoloniality, and feminist and queer visual culture. He is completing his first book manuscript, "Impossible Indians: The Native Subjects of Decolonial Performance," which looks to indigenous pre-colonial and colonial history and how it has informed performance by contemporary artists. García is also working on a project examining the aesthetic practices of undocumented migrants.
The fellowship, which García said is designed to support minority junior faculty who are at the early stages of their academic careers, will afford him with a 12-month research leave to complete his book as well as two research articles on indigenous freedom, Xicana feminism, and Mexican theatre. Ben Sifuentes-Jáuregui, a professor at Rutgers University and a leading scholar of Latinx and Latin American literature, cultural studies, and gender and sexuality studies, will serve as García's mentor during the fellowship.
"Since it was founded, the fellowship program has contributed to the diversification of higher education by supporting numerous cohorts of faculty of color, especially in the humanities and the arts, who are actively committed to social change," he said. "The fellowship program is supporting my work because they are invested in faculty who can help shape the future of academia. For junior faculty of color, this support is invaluable."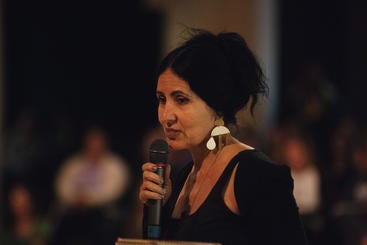 Firmino-Castillo joined UCR in fall 2017. Born in Guatemala, she is a transdisciplinary researcher and performative artist who also works at the intersections of critical dance studies, anthropology, and decoloniality. She is co-editing an anthology on critical indigenous dance studies and has published on the Guatemalan counterinsurgency war and how survivors used ceremony and performance to heal from the violence.
Firmino-Castillo will spend her fellowship year writing a book tentatively titled "Choreographies of Catastrophe: Corporeal Worldings in the Cthulucene." The project will focus on artists in Guatemala, México, and the United States who use the body to respond to transnational catastrophes rooted in long and interconnected histories of colonial violence in the Americas.   
Ramón H. Rivera-Servera, associate professor in performance studies with Northwestern University, will serve as her mentor throughout the fellowship. 
"I am grateful to the Wilson Foundation and am honored to be part of a cohort of Wilson scholars equally committed to undoing the long-standing inequities of the academy," said Firmino-Castillo, co-director of the annual Indigenous Choreographers Gathering at UCR.  
Firmino-Castillo also noted that it is a "bitter-not-sweet irony to be granted a fellowship to write about choreography and catastrophe during a global pandemic marked by massive and uneven death, social isolation, and restrictions on the movements of certain bodies." 
At the same time, she asserted that critical dance and performance studies "have something to say and to do" during "a crisis in which the interrelation of bodies (human and other) is at the center."  She hopes this perspective can help meet the challenges ahead by paying "close attention to the consequences of our corporeal entanglements, while supporting new forms of relationality that might enact more livable worlds."