Each year, UC Riverside's Student Life office selects 15 exemplary organizations — of the more than 500 student groups that exist — to include in its annual Student Organization Awards celebration. 
This week, Student Life announced the winners via a virtual Student Organization Awards ceremony. Among the most coveted awards is the Organization of the Year Award, which recognizes a group that captures every facet of an impactful student organization, including high levels of achievement, campus and community engagement, and membership retention and development. 
The 2019-20 Organization of the Year Award went to the UCR School of Medicine Project Sunshine chapter, which was established three years ago and has more than 275 members.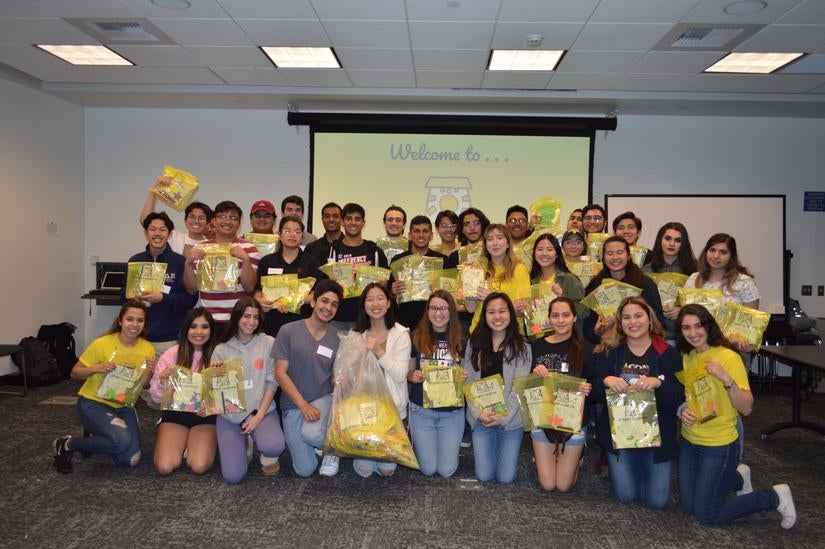 Project Sunshine is an international organization whose members create craft kits to deliver to children under pediatric care at clinics and hospitals. 
Between fall and winter quarter, Project Sunshine made 21 visits to local hospitals, each lasting 90 minutes. During the visits, students played board games, colored, made crafts, and played games such as bean bag toss with the hospitalized patients. Last Halloween, the group visited a Kaiser Permanente hospital and distributed more than 200 craft kits, a substitute for candy. 
"We could not have as great of an impact on our community without the constant support from our members and board," said Natalie Taby, UCR's current Project Sunshine president. Despite the pandemic, members are still offering pediatric patients virtual programs and are making face coverings. 
Project Sunshine also has an annual holiday toy drive. Members distribute the toys throughout the community at various medical facilities, including Riverside University Health Systems and the Carol E. Wiley Center, a Riverside nonprofit counseling and mental health facility.  
"UCR is full of students who want to give back, and Project Sunshine figured out a way to do precisely that," said Adam Ryen Daniels, interim senior coordinator for Student Life. "For three years, Project Sunshine has been one of our most successful projects on campus. They are spreading across Southern California and want to reach all corners of the Inland Empire and beyond." 
UCR has more than 500 student organizations, with 99 new groups created since the beginning of this academic year, Daniels said. This translates into thousands of community service hours where UCR students offer their knowledge and skills, impacting communities that surround the university, Daniels said. 
Chancellor Kim Wilcox said he's proud of all the students who devote so much time and energy to their respective organizations. 
 
"They help make this big university small," Wilcox said in the Student Organization Awards video. "I'm grateful for over 500 organizations on campus that have helped to make UCR a great university, a big university, but also a place where people can connect and feel at home in a smaller group."   
List of 2020 Student Organization Awards:
Organization of the Year: Project Sunshine, UCR School of Medicine chapter
Graduate Student Organization of the Year: Biomedical Sciences Mini-GSA
Outstanding New Organization of the Year: Highlander EMS
President of the Year: Arati Jaiswal, Healthy Hearts
Outstanding Leader: Zaynah Waseem
Executive Board of the Year: Future Dentist Club
Social Justice Activists of the Year: South Asian Federation
Event of the Year: QTPOC 15th Annual Conference
Collaborative Event of the Year: Rose Hack, Women in Computing & Society of Women Engineers
Educational Event of the Year: Meet Your Concentration, Undergraduate Business Association
Outreach Efforts of the Year: Entomology Graduate Student Association
Philanthropic Event of the Year: Halo Hoops, Pi Beta Phi
Community Service Award: Student Homeless Aid Relief Project
Unsung Hero of the Year: Allison Chu, Society of Women Engineers
Adviser of the Year: Desmond Harvey, National Society of Black Engineers