UC Riverside Police Corporal John Enriquez '06 was recently named "Course MVP" by law enforcement officers across the country as part of a class he completed while obtaining a master's degree.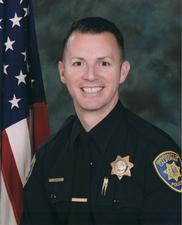 Enriquez was selected for the honor by about 250 others enrolled in the program at the University of San Diego. 
"The fact that I was chosen was very humbling and flattering," Enriquez said, noting that other participants ranged from police chiefs to patrol officers.
Enriquez completed a 20-month, 11-month program on Aug. 17, receiving a master's of science degree in law enforcement and public safety leadership. The Course MVP selection was for his final course, Budgeting and Finance for Law Enforcement Leaders.
The course included an assignment to analyze a police agency budget and suggest improvements.
Enriquez said he believes his active engagement in regularly responding to posts from his cohorts in an online discussion board played a part in his selection.
"To me that was one of the neatest parts of the program," he said. "You get to interact with officers from Illinois, Florida, Northern California, all over."
Enriquez, a 2006 UCR graduate who has been with the UCR police department for 14 years, said he was attracted to the program by its blend of theory, research, and practice. He said the program provides a future path to police management while tackling many of the modern issues confronting policing.