UCR author Nalo Hopkinson's book "Brown Girl in the Ring" has been included in a list of "The 100 Best Fantasy Books of All Time" published by Time. The list, which includes titles dating from the 9th century to January of this year, was released Oct. 15.
Published in 1998, Hopkinson's debut novel "Brown Girl in the Ring" is a mix of sci-fi, horror, and Afro-Caribbean lore. Set in the near future in a dystopian Toronto, the novel centers on Ti-Jeanne, a young West Indian woman and single mother who is able to foresee strangers' deaths. Hopkinson received several awards for the title including winning the Warner Aspect First Novel Contest, Locus Award for Best First Novel, and the John W. Campbell Award for Best New Writer, and the novel served as inspiration for the feature film "Brown Girl Begins."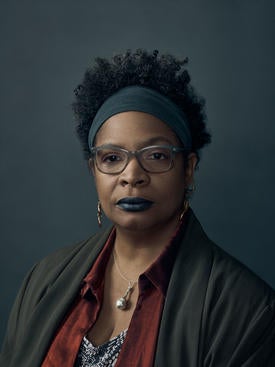 To make selections for Time's list, a panel of leading fantasy authors including Tomi Adeyemi, Cassandra Clare, Diana Gabaldon, Neil Gaiman, Marlon James, N.K. Jemisin, George R.R. Martin, and Sabaa Tahir were recruited to join Time staff in nominating the top books of the genre. The list was narrowed to 250 nominees, which were then rated on a scale, and final selection was completed by Time editors based on criteria including originality, ambition, artistry, critical and popular reception, and influence on the fantasy genre and literature. The list puts Hopkinson's work among classics such as "Alice's Adventures in Wonderland" and "The Lord of the Rings" trilogy, as well as popular contemporary novels like "Harry Potter and the Prisoner of Azkaban."
Hopkinson is a professor of creative writing and the author of six novels as well as several collections and anthologies. She has received numerous accolades including the World Fantasy Award, the Sunburst Award for Canadian Literature of the Fantastic, Gaylactic Spectrum Award, and the Octavia E. Butler Memorial Award. Most recently, Hopkinson penned the "House of Whispers" series for Sandman Universe, the reboot of Neil Gaiman's acclaimed Sandman comics.