Victoria Reyes, a UC Riverside sociologist, has won this year's Emory Elliott Book Award for outstanding publications authored by faculty members in the College of Humanities, Arts and Social Sciences, or CHASS.
Reyes, an assistant professor in the Department of Sociology, wrote the book "Global Borderlands: Fantasy, Violence, and Empire in Subic Bay, Philippines," which was largely inspired by the experiences of her own family members.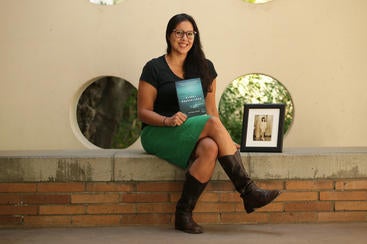 The book uses the Philippines' Subic Bay as a case study for a type of place Reyes has termed a "global borderland," which she describes as semi-autonomous, foreign-controlled, legally ambiguous places often geared toward international exchange. 
Reyes said the award, announced in January, means a great deal to her, describing the Center for Ideas and Society, which awards the prize, as her intellectual home since starting at UCR.
She noted her book doesn't fit into a standard scholarly box because it draws on a wide range of debates within and outside sociology, and relies on fieldwork, interviews, and documents.
"To be recognized by this award is incredibly affirming, to know that fellow scholars understand and appreciate what I am trying to do," Reyes said.
The Emory Elliott Book Award was established by the Center for Ideas and Society and the family and friends of Emory Elliott, a UCR professor of English who died in 2009. The committee chooses books published the previous academic year by a College of Humanities and Social Sciences faculty member that best exemplify Elliott's values.
Georgia Warnke, director for the Center for Ideas and Society, said Reyes' book was chosen in a competitive field of wonderful and stimulating books.
"The committee selected Victoria's book because they found it to be an important ethnography, a riveting read, and groundbreaking extension of the idea of borderlands," she said.