UC Riverside's William Ota is one of the few graduate students nationwide to be honored this year with a policy award from the Ecological Society of America.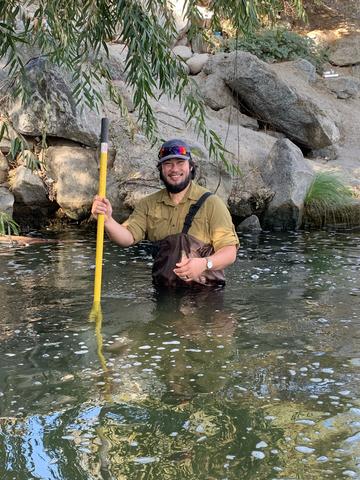 The society is the nation's largest organization of professional ecologists. Their Graduate Student Policy Award offers early career scientists training in communications and opportunities to meet with lawmakers for discussions about the importance of federal funding for the biological and ecological sciences.
 
Ota will join the other 22 award recipients in April to learn about the federal legislative process, hear from ecologists working in federal agencies, and meet with their members of Congress on Capitol Hill. 
Working with Kurt Anderson in the Department of Evolution, Ecology and Organismal Biology, Ota studies communities of freshwater animals. Specifically, he has been researching the effects of urbanization, wastewater and invasive species on endangered fish native to the Santa Ana River. 
With this award, Ota will be able to share his research with legislators, and his concern about the growing ecological effects of urbanization, in which rivers are segmented into sections that prevent fish from swimming, and other sections are inundated with wastewater.
"I'm excited to have the chance to advocate for more study of endangered species in urban areas," Ota said. "More animals are under threat as human populations continue to grow, and urban areas have gotten less focus than species in more pristine areas. I think that's a mistake. There are downstream consequences of losing any species." 
Determined to use his expertise to make an impact on policy, Ota has a strong track record of seeking science policy experiences. He won the 2020 UC Center Sacramento STEM Solutions competition, serves as the Government Relations Chair for UCR's Science to Policy program, and is the Scholarship Program Coordinator for the National Science Policy Network. 
He believes programs like these are essential, particularly as graduate students have fewer opportunities to pursue traditional tenure track careers.  
"Science to Policy helps us explore different options, and the policy space lets PhDs use their expertise for the betterment of society," he said.