UC Riverside Chancellor Kim A. Wilcox and Seana Nuñez, a staff employment and development analyst, have been recognized for their contributions to the campus by the systemwide organization representing University of California staff.
Wilcox received the Outstanding Senior Leadership Award while Nuñez received the Kevin McCauley Memorial Outstanding Staff Award. Both were presented with the award during a surprise ceremony at the UCR Staff Assembly meeting on May 19.
The awards are sponsored by the Council of University of California Staff Assemblies. Both were nominated for the awards by UCR Staff Assembly.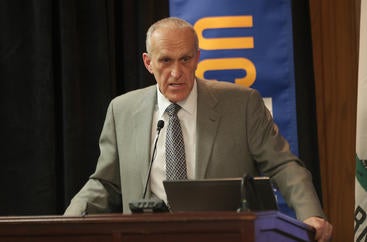 The Outstanding Senior Leadership Award recognizes senior‐level leaders who are supportive and inclusive of UC staff, and encourage equity, diversity, inclusion, and community.
"I'm overwhelmed," Wilcox said in an emotional speech. "I'm honored and flattered. UCR means the world to me."
In his nomination letter, UCR Staff Assembly cited several ways Wilcox has worked with and recognized staff members, including an annual picnic and the inclusion of staff on key task forces such as those focusing on policing and budgeting.
Dennis McIver, president of UCR Staff Assembly, said Wilcox has consistently worked to inspire and empower staff members, ensuring they are part of the shared governance process.
"Chancellor Wilcox has shown this level of commitment to encouraging and supporting staff for years," he said. "In this particular past year, with the challenges UCR has faced, the fact that he saw Staff Assembly as partners in trying to navigate that showed his character."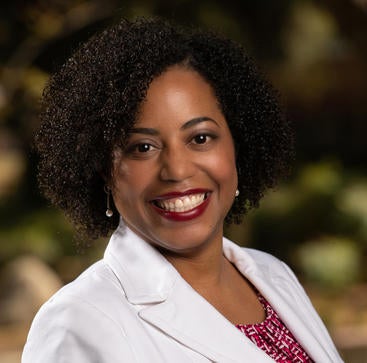 Nuñez is the third UCR employee in four years to receive the Kevin McCauley Memorial Outstanding Staff Award, which recognizes forward-thinking employees who are supportive and inclusive of staff and encourage equity, diversity, and community.
"It is an absolute honor to be recognized for doing what I love, with colleagues I respect and admire, at an institution that I believe in," she said. "For me, there is no greater gift than to realize that the work I do matters and has had a positive impact on others."
Nuñez oversees a wide range of staff training for Human Resources and is the program manager of the UC Management Skills Assessment and UCR Building Core Supervisory Competencies programs. She's also been an active volunteer with Staff Assembly where she's held leadership positions.
"Whether she is presenting before hundreds of people or giving guidance to a handful, Seana approaches each task with organization, professionalism, understanding and kindness," Staff Assembly's nomination letter stated. "She keeps staff members and their well-being front and center and always runs to a challenge instead of away from it."
A tribute video for Nuñez is available at the Staff Assembly Facebook page.