Declan McCole, a professor of biomedical sciences in the School of Medicine, has received a three-year grant from the National Institutes of Diabetes and Digestive and Kidney Diseases, a division of the National Institutes of Health, to explore how a certain protective gene's loss of function can increase the risk of infection with SARS-CoV-2, the virus that causes COVID-19.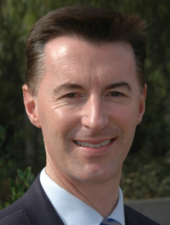 Protein tyrosine phosphatase non-receptor type 2, or PTPN2, is a protective gene that helps to control inflammation. Loss-of-function mutations in PTPN2 that reduce the activity of this gene and allow inflammatory pathways to run unchecked are associated with increasing the risk of developing chronic inflammatory diseases such as inflammatory bowel disease, or IBD, and Type 1 diabetes. 
McCole's lab has identified that individuals with PTPN2 mutations have increased expression of the protein ACE2, which functions as the target on the surface of cells lining the lungs and intestines that SARS-CoV-2 binds to before invading the body. The research award of more than $1.1 million will allow the lab to investigate the mechanism by which the PTPN2 mutations increase the levels of ACE2 and infection by SARS-CoV-2. An additional aspect of the study will determine if this risk can be corrected using clinically approved drugs that could reduce the risk of infection. 
"This is a very exciting project because we will not only identify how this genetic risk factor regulates the amount of the ACE2 protein that the virus uses to infect cells, but we will also identify if a currently used anti-inflammatory agent could potentially be repurposed to reduce the risk of infection in individuals carrying PTPN2 mutations," McCole said. 
McCole explained this work may help to clarify a major area of confusion relating to whether patients with chronic inflammatory conditions are at increased risk of SARS-CoV-2 infection. 
"Our study will help determine if this class of anti-inflammatory drugs may in fact reduce rather than increase the risk of infection," he said. "This will provide mechanistic evidence to support clinicians in deciding to maintain treatment regimens for their patients."
McCole's lab will be supported in this study by Tara Nordgren and Meera Nair in the Division of Biomedical Sciences, School of Medicine; and by Rong Hai in the Department of Microbiology and Plant Pathology in the College of Natural and Agricultural Sciences.
The title of the grant is "Mechanistic Characterization of the IBD Risk Gene, PTPN2, as a Novel Susceptibility Marker for Increased SARS-CoV-2 Infection."