Distinguished Professor of Psychology Sonja Lyubomirsky was recently awarded an honorary doctorate Nov. 26 by the University of Basel in Switzerland. 
It was part of the university's Dies Academicus 2021, an annual faculty ceremony. The ceremony was the 561st held by the university, which was founded in 1460 and is one of the oldest surviving universities in the world. The ceremony took place in a 15th century cathedral, Lyubomirsky said. 
Calling Lyubomirsky "one of the most highly regarded psychologists in the world," the university said the honor is in recognition of her "groundbreaking empirical and theoretical" research on happiness and the meaning of happiness.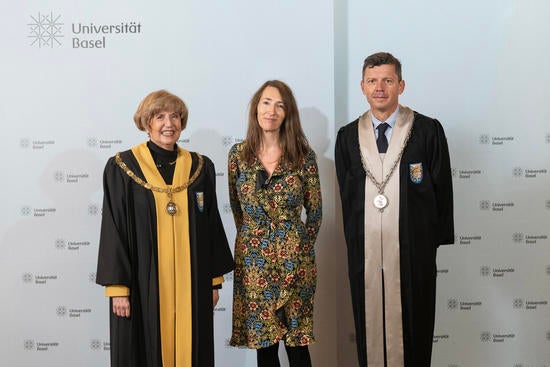 For the first time, all who received honorary doctorates at the university's Dies Academicus were women. In addition to Lyubomirsky, honorees included publisher Gabriella Karger, historian Michelle Perrot, and Luther researcher Lyndal Roper, developmental biologist Ruth Lehmann, economist Margaret Slade, and Rosemary Kayess, a human rights lawyer.
Lyubomirsky has spent her entire academic career at UC Riverside, beginning as an assistant professor of psychology in 1994. Among many honors throughout her career, Lyubomirsky has been named one of the Top 50 Scientists in the World by Business Insider and was honored with the Carol and Ed Diener Award for Outstanding Midcareer Contributions in Personality Psychology and the Christopher J. Peterson Gold Medal. Her books include the bestselling "The How of Happiness: A Scientific Approach to Getting the Life You Want" and "The Myths of Happiness: What Should Make You Happy, But Doesn't, What Shouldn't Make You Happy, But Does."