A national organization dedicated to racial justice has named an award for UC Riverside education professor Tara J. Yosso. Color of Change, an online nonprofit, cited the power of Yosso's research-based counter narratives, which shed critical historical light on the educational experiences of students of color.
Color of Change held its inaugural Black History Now Awards on its Facebook page on Feb. 24. The Tara J. Yosso Excellence in Counter Storytelling in Education Award was one of seven awards presented during the online ceremony.
"Tara has built her career by examining how educational access and opportunity impacts communities of color," said journalist Roland Martin, who hosted the event.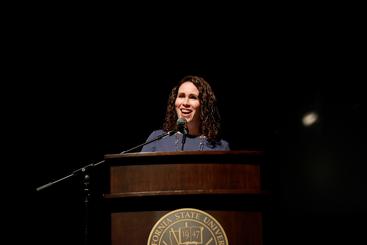 A professor in the School of Education, Yosso said she was honored to have her work recognized by Color of Change.
"I appreciate how Color of Change is standing up against the distortions of critical race theory by acknowledging the everyday efforts of educators and community advocates who are challenging racism and preparing the next generation to continue the work of creating a more just society," she said. "I am so thrilled to be a part of the first ever Black History Now Awards and to have them establish the Tara J. Yosso Excellence in Counter Storytelling in Education Award."
The organization said the event was designed to celebrate "educators and activists who are working to defend our history curriculum against political attacks."
Yosso personally announced the first recipient of the award named for her, which went to Amy Donofrio, a Florida high school teacher who was fired for hanging a Black Lives Matter flag on her classroom door.
"Donofrio has worked hard to empower more educators to stand beside their students, help them see themselves as connected across time and place in this struggle for justice, and fight against racism," Yosso said.