UC Riverside's Catherine Gudis, professor of history and Teresa and Byron Pollitt Endowed Term Chair for Interdisciplinary Research and Learning in the Humanities & Social Sciences, has been awarded a $100,000 grant by the Social Science Research Council-National Endowment for the Humanities Sustaining Humanities Infrastructure Program. 
The project, titled "A People's History of the Inland Empire: Storyscapes of Race, Place, and Queer Space in Southern California," will be co-directed by Gudis and her colleague at the University of Redlands, Jennifer Tilton.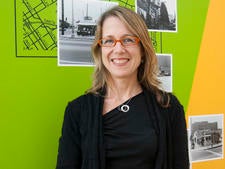 The funding is through the American Recovery Plan Act of 2021, and designed to address the pandemic's wide-ranging impact on higher education and the humanities sector. 
Gudis and Tilton's work will collect oral histories, photos, and other historical data of underrepresented voices and peoples usually erased from historical surveys. The project aims to bring just historical and cultural narratives to the Inland California region — one of the fastest-growing and most culturally diverse areas in the state. The project will bring together activists, BIPOC- and LGBTQ+-led heritage groups, social service providers, and municipal and state agencies in collaboration with minority-serving institutions such as UCR and University of Redlands. 
"The project also aims to map patterns of historical discrimination and the vital roles played by community members to combat it," said Gudis. "Through their social action, resiliency, and mutuality, we can learn important lessons to repair past and present harms–including disproportionate impacts of the pandemic on our region."
The project aims to historically address the systemic discrimination and social and environmental injustices of the region as a means of envisioning and advocating for change. 
"We aim to put people usually erased from view literally 'on the map,'" Tilton said.