The Center for Conservation Biology at UC Riverside is among eight recipients of Coachella Valley Mountains Conservancy's new Climate Resilience and Community Access grant program. The $400,000 grant will aid efforts to study climate resilience and improve the capacity to respond to climate change and outdoor equity.
The project, titled "The Desert Climate Resilience Initiative for the Coachella Valley," hopes to improve understanding about the resilience of desert vegetation, desert stored carbon, and natural resources relevant to communities.
The UCR research team received the funding along with a variety of community organizations, all aiming to raise the level of capacity to respond to the challenges of climate change.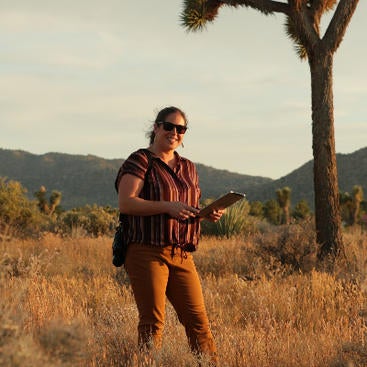 "Research is necessary to understand how climate change will affect the distribution of vegetation in the next 30-100 years, and likewise, how this will affect the storage and release of carbon in our region," said Lynn Sweet, an assistant research ecologist. "Both are key to planning for climate resilience in natural lands as part of a larger multi-faceted strategy toward climate adaptation."
The project will identify species and habitats that are sensitive to climate changes and gather data on carbon stocks within the Coachella Valley in the context of global greenhouse gas concentrations. That data will be used to create a tool to provide decision making support for sustainable land management.
The project will provide new regionally specific insights about climate change, Sweet said.