Two UC Riverside seniors are the recipients of the 2021-22 Chancellor's Award for Excellence in Undergraduate Research and Creative Achievement.
Preeti Juturu, a fourth-year public policy and economics major, and Shayan Saeed, a Middle East and Islamic studies major, were selected for the award, given annually by the Academic Senate to two graduating seniors who have conducted outstanding research or creative work. The award comes with a cash stipend.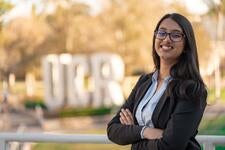 Juturu, whose concentrations are in urban/environmental policy and health/population policy, is a researcher at the UCR Center for Geospatial Sciences and a research assistant at the UCR Center for Health Disparities Research.
She said her interest is in studying health disparities and environmental justice and lifting up the disenfranchised communities those policies impact.
"I have always believed very strongly in contributing to and investing in knowledge," Juturu said. "Research is a powerful tool for community members to use in advocacy and empowerment, and for policymakers to create effective and data-informed policy."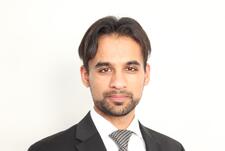 Saeed, who is interested in a career as a physician-scientist, has been a researcher in Professor Manuela Martins-Green's lab in the Department of Molecular, Cell and Systems Biology. His research involves understanding the significance of oxidative stress in chronic wounds and uncovering the enzymes responsible.
Chronic wounds are a debilitating problem for many people with diabetes or vascular disease yet there is no treatment and little is known of their cause, Saeed said.
"I'm very happy but this award really is a recognition of those who have supported me throughout my research endeavor," he said.