The Caribbean Philosophical Association recognized Professor Dylan Rodríguez with its Frantz Fanon Award for Outstanding Book in Caribbean Thought.
The award recognizes the importance of Rodriguez's 2021 book, "White Reconstruction: Domestic Warfare and the Logics of Genocide," published by Fordham University Press. The award will be presented during The Caribbean Philosophical Association's annual conference, scheduled from Oct. 27-29 at Michigan State University.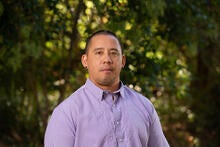 Rodríguez said Frantz Fanon was among the most important revolutionary thinkers, global Black liberation theorists, and political philosophers of his era. His books, "The Wretched of the Earth" and "Black Skin, White Masks," remain among the most influential works in the fiends of Black studies, diasporic Africana studies, critical theory, postcolonial thought, and radical philosophy. 
"'White Reconstruction' is in the spirit of Fanon's action: unveiling hidden destructuring systems to better combat them. Through it, Professor Dylan Rodríguez is contributing to shifting the geography of reason. The intellectual community is thankful," Caribbean Philosophical Association President Hanétha Vété-Congolo said.  
The Caribbean Philosophical Association, or CPA, was founded at the University of the West Indies in Mona, Jamaica. The organization is dedicated to the study of the Caribbean and the development of ideas that encourage dialogue. 
"I read and assign Frantz Fanon's work constantly," Rodriguez said. "I learn something new from his writing every time I pick it. Up. To be honored with an award in his name is something I will cherish forever."