Juan Felipe Herrera, UC Riverside emeritus professor of creative writing and former U.S. Poet Laureate, has been awarded the Ruth Lilly Poetry Prize, one of the most prestigious awards an American poet receives and one of the nation's largest literary prizes.
In honor of its 110th anniversary, the Poetry Foundation decided to honor 11 living U.S. poets, 10 more than in a typical year. The recognition comes with a $100,000 prize.  The awards ceremony will be held this month in Chicago. 
Herrera, the son of Mexican migrant workers, became the first Mexican American U.S. Poet Laureate, serving from 2015-17. During this time, he created La Casa de Colores, his Poet Laureate project. According to the Library of Congress, Herrera described the project, which in English means the House of Colors, as a house for all voices.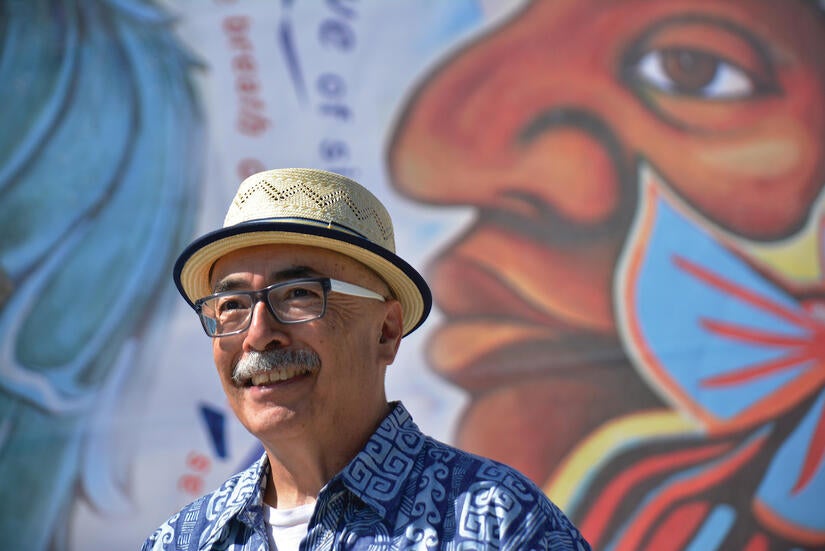 "In this house we will feed the hearth and heart of our communities with creativity and imagination. And we will stand together in times of struggle and joy," he said. 
Herrera also served as California Poet Laureate from 2012-14. While he served in this capacity, Herrera launched the "i-Promise Joanna" bullying-awareness project and he contributed to the healing of communities after the Boston Marathon bombing and the mass shooting at Sandy Hook Elementary School.
Herrera's accomplishments include publishing at least 30 books and earning many fellowships and grants, including from the Breadloaf Writers' Conference, the California Arts Council, the National Endowment for the Arts, and the Stanford Chicano Fellows Program. As a performing artist and activist for migrant and indigenous communities and at-risk youth, Herrera has spent the last 30 years founding various performance ensembles and teaching poetry, art, and performance in community art galleries and correctional facilities.
 
"We're celebrating 110 years of Poetry magazine this year and approaching 20 years of the Poetry Foundation in 2023. We wanted to do something special to mark these milestones by honoring an outstanding cohort of writers whose work has brought comfort and inspiration to so many," Poetry Foundation president, Michelle T. Boone said in a news release. "Poetry shows us the way forward, and there is no poetry without the imagination and talent of those behind the pen."