Viji Santhakumar, a professor of neuroscience in the UCR Department of Molecular, Cell and Systems Biology, has been appointed a member of the board of directors of the American Epilepsy Society, or AES. Her three-year term begins January 1, 2023.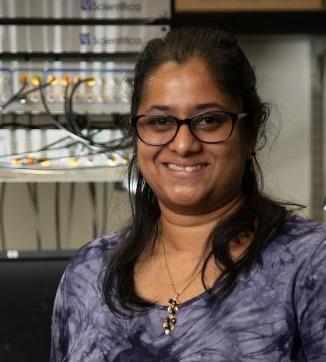 Founded in 1936, the AES is a community of professionals engaged in the understanding, diagnosis, study, prevention, treatment, and cure of epilepsy. The society advances knowledge and supports evidence-based clinical practice to improve outcomes for persons with epilepsy and their families.
As board member, Santhakumar will help the AES attract and foster talented professionals in the core areas of clinical practice; basic, translational, and clinical research; and education — in particular, researchers with cross disciplinary emphasis. Another priority will be enhancing the engagement of AES basic scientists and promoting interaction and communication between professionals in the basic sciences and clinical disciplines.
"Advancing diversity in thought, approaches, and scientific backgrounds is critical to innovation in research and clinical approaches," she said. "Inclusivity of professionals at all career levels, varied professional backgrounds, as well as patient advocates and diverse life experiences is critical for the growth of AES."
Santhakumar's research focuses traumatic brain injury and acquired epilepsy. She has been an active member of the AES for more than 20 years and served as member on AES committees and task forces. She serves on National Institutes of Health study sections and journal editorial boards, and was a contributing editor for Epilepsy Currents. She received her doctoral degree from UC Irvine and conducted postdoctoral training at UCLA.