Gerald L. Clarke Jr., an artist, professor and vice chair of UCR's Department of Ethnic Studies, is one of 11 artists participating in an international art exhibition in Palm Springs from March 4 to May 7.
Artist installations will be at various locations across the Coachella Valley. Desert X 2023 will make the locations public on March 4 via desertx.org and via the Desert X app. Admission is free and open to the public.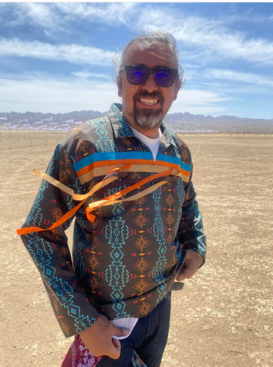 Clarke's piece, "Immersion," is an interactive traditional Cahuilla coiled basket called "chi-pat-mal" that has been converted into a 100-foot in diameter piece made from straw waddles, which are long tubes of straw that mimic the coiled basketry tradition of the Cahuilla. 
Clarke said he scaled the chi-pat-mal to become a giant game board. Visitors will be invited to walk upon the design of the basket and answer questions regarding Native American and Indigenous history, similar to the game Trivial Pursuit.
"This work is meant to serve as an educational experience. I think the average American will have great difficulty successfully making it to the end of the work due to the lack of Native American history taught in America," Clarke said. "I hope participants will come to realize how much they do not know about the history of these lands and the Native cultures who have called these lands home for thousands of years. Ironically, international visitors may actually have an easier time answering questions."
Desert X is produced by The Desert Biennial, a California not-for-profit that produces recurring international contemporary art exhibitions that activate desert locations through site-specific installations by acclaimed international artists.
Details on Clarke's work along with the other 10 artists: Desert X 2023