Juan Felipe Herrera, UC Riverside emeritus professor of creative writing and the United States' first Mexican American Poet Laureate, received the Frost Medal in January.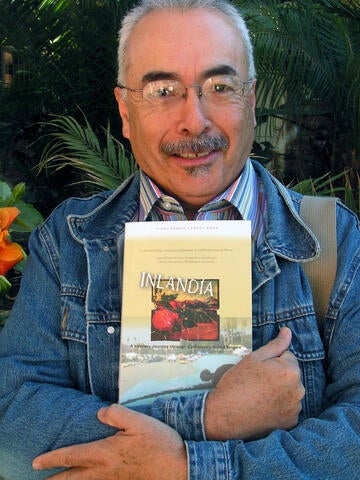 The Frost Medal, in honor of the poet Robert Lee Frost, was first given in 1930. It is one of the oldest and most prestigious awards in American poetry and is awarded annually at the discretion of the Poetry Society of America's board of governors. 
In their comments, the noted that Herrera's work is life.
"His poems move as he moves—through nature, through working-class communities of color, through political protests—though it would be more accurate to say he moves with them, for while Herrera is a keen observer he is never just looking on. His poems are acts of solidarity, a kind of extended family gathering, especially for Latinx, Indigenous, and other communities of color," the board wrote. 
In 2015, Herrera was appointed the 21st United States Poet Laureate. Herrera also served as California Poet Laureate from 2012-14. 
His accomplishments include at least 30 books and many fellowships and grants, including from the Breadloaf Writers' Conference, the California Arts Council, the National Endowment for the Arts, and the Stanford Chicano Fellows Program. As a performing artist and activist for migrant and indigenous communities and at-risk youth, Herrera has spent the last 30 years founding various performance ensembles and teaching poetry, art, and performance in community art galleries and correctional facilities.