Masaru Rao, a UCR professor of mechanical engineering, was recently awarded the status of senior member by the National Academy of Inventors, or NAI. 
According to NAI, senior members are active faculty, scientists, and administrators who have demonstrated remarkable innovation-producing technologies that have brought, or aspire to bring, real impact on the welfare of society.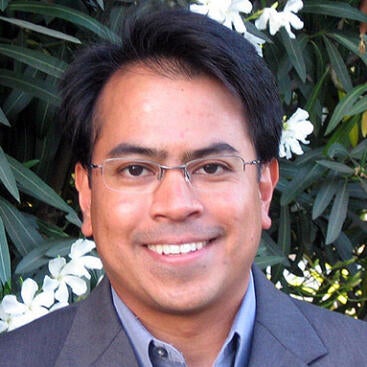 Rao's research relates to development of nanoneedle technology. His research involves microelectromechanical systems, or MEMS,--based process technologies, devices, and instruments that address critical unmet needs in public health. 
Rao described his research as "a novel cellular engineering technology that holds promise for accelerating the development of cures for some of humanity's most devastating illnesses like cancer, degenerative diseases such as Parkinson's, and genetic disorders such as hemophilia."
The technology developed by Rao's research is licensed to Basilard BioTech, a venture capital-backed startup spun out of his lab in 2019. 
NAI said senior members are also acknowledged based on success in patents, licensing, and commercialization while educating and mentoring the next generation of inventors.
"I'm honored by the recognition, especially since it helps bring greater attention to the importance of translational research, innovation, and entrepreneurship in academia, as well as the broader societal benefits that result therefrom," Rao said. "I'm also excited by the opportunity that it will afford for strengthening the local NAI community and supporting UCR's efforts to grow the innovation ecosystem in the IE."
The NAI is a member organization comprising U.S. and international universities; governmental agencies. and nonprofit research institutes. Currently, there are over 4,600 individual members, including fellows, senior members, and chapter members, who are affiliated with more than 300 institutions worldwide.
"I'm delighted to see how this program has expanded in just a couple years' time," said Paul R. Sanberg, president of NAI. "It really reflects the shift we are seeing at universities where invention is not only being recognized, but prioritized as well."