Anthea Kraut, a UCR professor of dance, is researching the uncredited labor of stand-in dancers known as "dance-ins" and ways they contributed to the film industry's upholding of white supremacy during the Golden Age of musicals in Hollywood.
In December 2022, she received a $60,000 grant from the National Endowment for the Humanities, or NEH, to support this research. Also last year, she earned a competitive fellowship from the John Simon Guggenheim Memorial Foundation.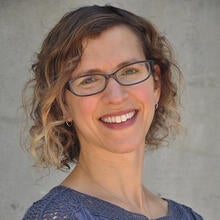 Kraut uses the term "corporeal ecosystem" to describe the ways Hollywood's studio system relied on hierarchical and often parasitical relationships between stars, choreographers, and dance-ins to construct glorified images of white movie stars while concealing the racialized and gendered labor of those who worked behind the camera and without credit.
"Hollywood stars in the mid-20th century were overwhelmingly white, but there were many multiracial dancers who were present behind the scenes and who helped shape the bodies of white stars" said Kraut, a critical dance studies professor. The NEH grant will allow her to work on her third book.
Who and what were "dance-ins?"
A dance-in, or a dancing stand-in, is comparable to an actor's stand-in, but instead of standing on a mark, a dance-in rehearses the choreography for an actor during dance numbers while lights are being set and cameras being focused. In most cases, dance-ins were far more experienced dancers than the stars featured in the film. Because they are less visible than even a "dance double," who replaces a star's body on film, dance-ins are almost completely forgotten participants in the creation of dance on screen.
"In many cases, dance-ins also functioned as assistant choreographers and coaches to stars," Kraut said. "Dance-ins thus not only rehearsed in place of a star but also helped shape the star's dancing body. In some cases, in fact, stars were merely copying their dance-ins when they learned the film choreography."
"My argument is that the image of the star's dancing body that we see on screen actually contains the traces of the unseen figures who preceded and danced in place of the star," Kraut said. "Accounting for intermediary figures like dance-ins who are neither official choreographers nor on-screen performers should complicate our understanding of how images of bodies are created, how white star bodies come to be perceived as 'original' and 'singular,' and how dance is reproduced more generally."
The grant is a great honor, she said, and will allow her to take a year away from her departmental and teaching duties. 
"Time to write is the most glorious gift in the world," she said.